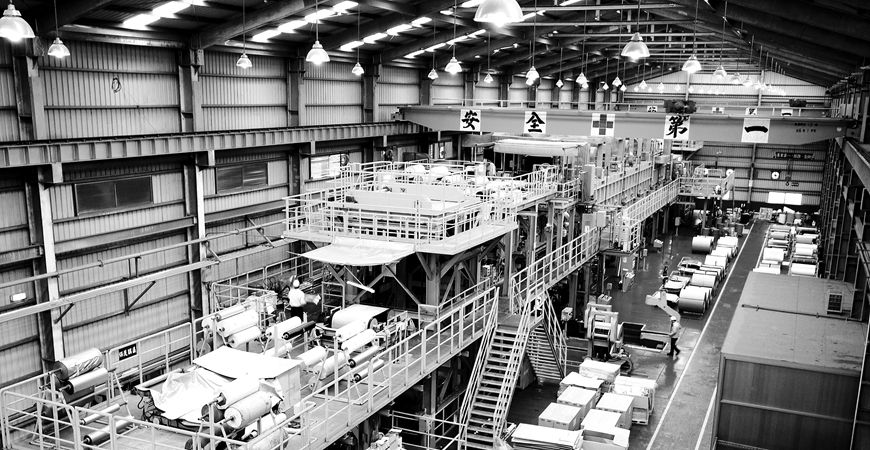 Process-Tech
Laminated steel, Anti-fingerprint coating, Roll-to-Roll production, slitting
Lienchy Metal is continuous production line to produce laminated steel sheets, anti-fingerprint stainless steel. The production line was designed and tested by Japan's Sumitomo Heavy Industries, Ltd. and Honda Foundry Co.,Ltd. and Japan's Great Ocean Steel. The laboratory was technically guided by Japan's Riken Co., Ltd. to meet the JIS K6744 test standard. The total length of the production line is 350M and the annual production capacity exceeds 50,000 tons.
---
We offer a wide range of film colors and designs, as well as a variety of different surface coating treatments.
For laminated steel products, using cold-rolled steel sheets, hot-dip galvanized steel sheets, electrogalvanized steel, stainless steel, and aluminum as substrates. The substrate thickness ranges from 0.3 to 1.60 mm. The maximum width is 1300 mm.
Specification of Laminated metal Product
Item
Width
Length
Torrlence
Inside Diameter
Sheet
200-1250 mm
300mm - 3,048mm
±1 mm
--
Coil
58-1250 mm
Any Spec.
±0.5 mm
508 mm
Item
Type
Thickness
Tolerence
Base Metal
CR, SECC, SGCC, AL, AL/MG, SU, Other metal
0.286-1.6 mm
According to JIS
Surface Layer
PVC,PET+PVC,PP,PVC+PP,PVF
0.05-0.25 mm
±0.04 mm
Lien Chy Metal Roll to Roll Coating Line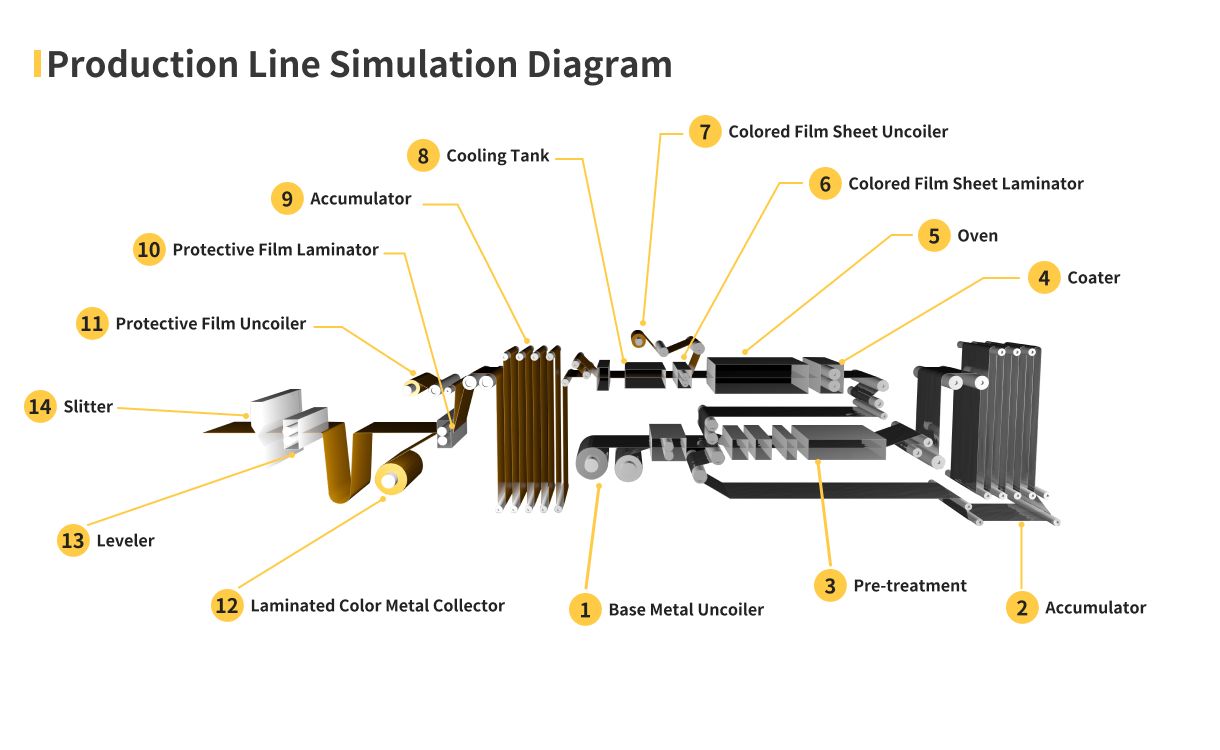 Production Line Introduction
Lienchy Metal's high-quality laminated metal products come from our high-precision roll-to-roll production line and the professional operation of our staff. The above picture is a schematic diagram of the roll-to-roll production line, from steel coil feeding to laminating film, to Collecting and Cutting, every stage of our production process is strictly checked. The following paragraph is a detailed introduction of the production process:
Base Metal Uncoiler - Input steel coil to the production line


Accumulator - Continuously production, when it comes to replace the raw material, there's a buffer for on-site staff to proceed the replacement


Pre-treatment - Cleaning the materials' surface


Coater - Roller coating adhesive layer and AFP (anti-fingerprint) layer


Oven - Heat up the steel with oven, in order to chemicalize the adhesive and AFP (anti-fingerprint) layer


Colored Film Sheet Laminator - After adhesive layer is chemiclized, start laminating with steel surface


Colored Film Sheet Uncoiler - Input color filing (roll) to the production line


Cooling Tank - Put laminated and AFP coating finished products into the tank to cool down the temperature of substrate


Accumulator - Continuously production, when it comes to replace the raw material, there's a buffer for on-site staff to proceed the replacement


Protective Film Laminator - After cooling down, laminating the processed surface with protective film, to avoid the surface damage


Protective Film Uncoiler - Input protective film (roll) to the production line


Laminated Color Metal Coil Collector - Through the whole process, after heating and cooling collect in coil, that's roll-to-roll coating production


Leveler - Flating the surface of substrate, to decrease the curve rate of surface


Slitter - Coil cuts into sheets (length)
During the production process, we perform manual inspections and AOI inspections, such as color and adhesion, to ensure compliance with ISO standard. The continuous producing technology of Lien Chy Metal can ensure high quality products. Lien Chy has excellent machinability and excellent durability to withstand subsequent bending, stamping and other post-processings.


We have a wealth of experience and engineering design flexibility to adapt to the individual needs of our customers. These may involve technical specifications, the quality of the substrate, mechanical properties, film properties, special color and design requirements, and processing requirements. These parameters are produced after a thorough discussion with customers and a large number of laboratory experiments and pilot runs. We have a strict factory management and process planning to ensure high quality products and timely and accurate delivery.
Film about Cutting Machine

Download Product Catalog