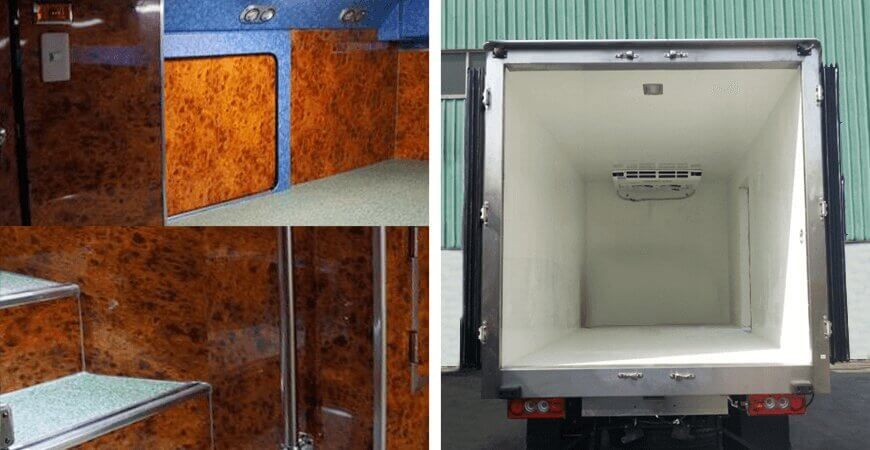 Vehicle Interior
Laminated metal that can be made for car interiors, in compliance with safety regulations
Most of interior design of automotive is standardized, from sedans to truck bodies, all of which need to meet safety and fire resistance standards to avoid accidents;
Lienchy Metal provides a rich selection of automotive interior panels, all of which meet the flame resistance standards and related processability tests. If there is a customized demand for tourist buses, cold storage or goods vehicles,Lienchy Metal can also cooperate with customers for interior processing and installation.
---
The Lifespan of Laminated Metal?
After decades of finished products made by Lien Chy Metal, the film and metal substrate are still perfectly combined. Thanks to the design of Lien Chy metal's production line, plus the unique colloid selection and temperature control.
What's the Advantages of Laminated Metal?
Metal is not flamable, and the colloid we have selected are in compliance with the class 2 of fire-resistant specifications, which provides an extra layer of protection. In addition, the film attached to the metal surface can effectively isolate air and moisture, reduce the rate of metal corrosion, and increase the durability of the door panel. The surface of the exquisite film is very smooth, and some have three-dimensional texture to reduce the cold feeling of the metal.
Why Lien Chy Metal?
Lien Chy's laminated metal can create more indoor aesthetics because of the color diversity. Lien Chy Metal uses continuous roll to roll coating technology to produce, and the film is perfectly attached to the metal substrate, which can save processing costs and have the advantages of large-scale mass production.
Three-dimensional texture film is attached to the metal, which can add additional sound absorption and heat preservation effects to the metal

The film can effectively isolate air and moisture, reduce the rate of metal corrosion, and increase the durability of the product

Excellent tactile experience, very comfortable and smooth when touched, without the cold or rough feeling of metal

Passed the rigorous abrasion resistance test and peeling force test of international home appliance manufacturers, with excellent quality
How to send inquires or request for examples
Want to know the detail of the product? Please refer to the following pages
There will be a slight color difference between the picture and the actual product due to the display device and shooting angle, please refer to the actual color of the product.
Please fill in the inquiry down below, we will contact you ASAP. If you need samples, please send us your contact information.
We adopt order-to-order production. If you have a limited demand, please refer to Product in Stock or leave an inquiry to us.
Further Readings