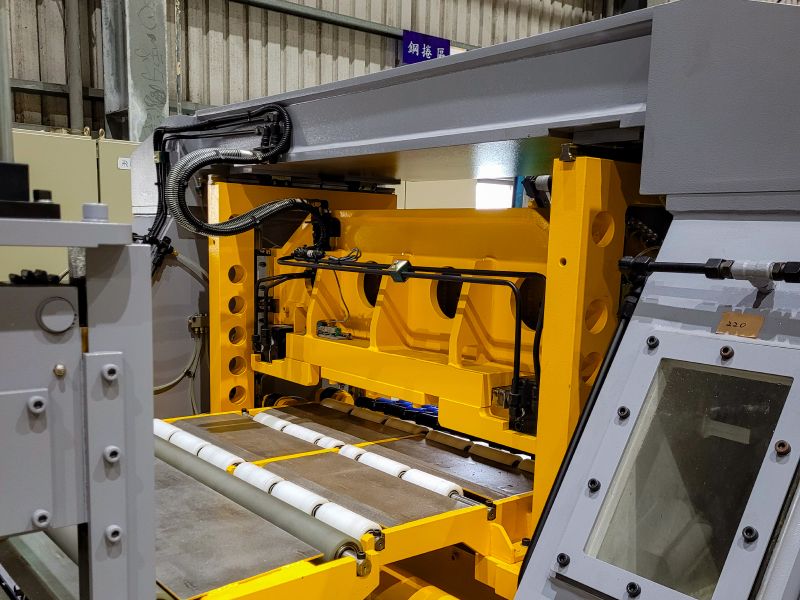 High Precision 800mm Rotary Shear System
800mm high-precision flying shear line incorporating the latest leveling and cutting technologies
To further expand our steel processing capabilities, Lienchy Metal has recently installed the state-of-the-art 800mm Ultra-High Precision Flying Shear equipment in 2023. This cutting-edge machinery offers outstanding steel plate cutting capabilities, catering to the needs of high-tech industries such as laser sheet metal and semiconductor. With its exceptional performance, this equipment enables precise processing of steel materials with fine dimensions, ensuring top-quality steel plate shearing services for our customers.
---
This 800mm flying shear equipment adopts the latest leveling technology, reducing the occurrence of buckling that may arise with traditional leveling methods. Equipped with leveling rolls from Europe, it offers an improved leveling capacity of at least three times compared to conventional equipment, ensuring excellent leveling results. Additionally, the machine's special design significantly accelerates production speed while effectively reducing material wastage, achieving higher productivity and production efficiency.

In terms of control systems, our 800mm flying shear equipment utilizes the top German brand Flender gearboxes, providing efficient assistance to motor operations. Coupled with advanced electrical control systems from Siemens and Bosch Rexroth, the cutting accuracy and speed surpass those of typical Taiwanese-made equipment, even exceeding the performance of European-made machines.

The 800mm High Precision Rotary Shear System delivers outstanding cutting capabilities and reliable production efficiency to our customers. Lienchy Metal remains committed to providing high-quality equipment to meet customers' demands for precision steel processing.
Feed specification
Steel coils material: Suitable for cold rolled steel coils, hot dip galvanized steel coils, electrogalvanized steel coils, stainless steel coils, aluminum coil, magnesium-aluminum-zinc steel coils, copper, titanium and other metal coils.
Steel coils inner diameter: 508mm, 610mm
Steel coils maximum load: 10000kg (10mt)
Steel coils allowable width: 70~800mm
Steel plate thickness: 0.3~3.0mm
Processing capacity
Steel plate width: 70~800mm
Steel plate length: 150~2000mm
Tolerance accuracy: (1000mm) ±0.2mm
Flatness: JIS(1000mm length) 0~1.5mm
Maximum capacity speed: 50m/min
Shearing ability: 165cut/min (300mm length)