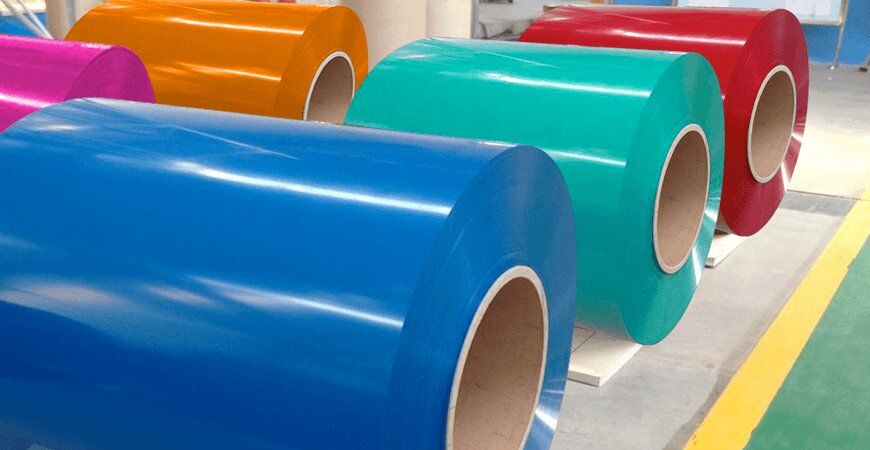 Pre-Coated Metal
Colored pre-coated steel coil, eco-friendliness, partial coating (PPGI / PPGL / PPAL)
Color coating steel coil of continuous production by Lienchy Laminated Metal is used the newest modified polyester coating(PE). We can choose different material substrates (PPGI / PPGL / PPAL) to pre-coated the same PE coating. No matter what kind of the steel coil that have good roll formability, weather resistance and outdoor stability, as well as a variety of bright colors. If you have needs of partial coating, please don't be nervous to contact us. We have application experience form our customer.
---
Colored pre-coated steel coil of continuous production by Lienchy Laminated Metal has more advantages inclouded eco-friendliness, uniform coating, especially on partial coating. We research and develope coating with insulated for custemer. Use our partial coating technology on stainless steel to make machine elements. We solve the problem for our customer successfully.
Multi-purpose use : It can be applied to the appearance decoration of a variety of products and had good structural strength.
Multiple choices : You can choose colorful coating and used in different contexts.
Convenient processing : Can be processed with high-precision processing equipment, such as waterjet cutting, laser cutting, bending, stamping, punching, CNC cutting, printing and spraying.
Excellent quality : Select high quality metal substrates and produce a large number of stable quality finished products in roll-to-roll coating technology.
Features
The comprehensive performance and price characteristics of the topcoat system were widely used in the market.
It has excellent adhesion and affordable price.
The Metal coil/blank made by continuous production has excellent formability and can be processed multiple times.
There are many kinds of color and gloss requirements let you select(Please according to RAL color sheet to pick the color).
Prevent corrosion around the normal circumstances.
Application Presenting
Suggested Use:
Outdoor uses : light industrial district, commercial district, residential areas, suburbs, villages, etc.
Outdoor decoration : roofs, wall panels, garages, rolling doors, fences, storage rooms, etc.
Indoor decoration : window rails, partition boards, ceilings, etc.
When do we need for partial coating?
The functions of mechanical parts may be required to be conductive and insulated. For the reason to save the space, the fixing parts of the case could be a wire in some mechanism design.Due to Lienchy Laminated Metal is continuous production, partial coating can save the cost on raw metirial and post-processing. Partial coating compared favourably with screen printing and laser engraving can save more cost and more making your products competitive advantage.
Package Method
We ship the product in coil or sheets, with customer assigned service, Lien Chy Metal will meet your expectation, like we always do, for more information, please refer to Protective Film and Package

Company Profile
For more information, click here to download

Download
Colored pre-coated steel coil, eco-friendliness, partial coating (PPGI / PPGL / PPAL) | Antimicrobial & Anti-Fingerprint Steel Sheet Manufacturing | Lienchy Metal
Based in Taiwan since 1992, LIENCHY LAMINATED METAL CO., LTD. has been a pre-coated steel products manufacturer. Our main metal products, include Pre-Coated Metal, pre-coated steel sheet, PPGI, PPGL, PPAL, pre-painted steel sheet, pre-finished steel sheet, anti-fingerprint stainless steel, pvc laminated metal sheet, pvc cladded metal sheet, PVDF laminated metal sheet, titanium coated stainless steel sheet, pre-painted metal sheet, coil steel sheet and titanium coated stainless steel sheet, which are manufactured with a 350M roll-to-roll production line and 50,000 tons annual production capacity..
Lienchy Metal is capable of manufacturing ISO certified 1.6mm-thick laminated steel sheets and meet SGS, RoHS and GREENGUARD standards. We are long-term partner of EU and US home appliance brands and Japanese elevator factories, our products have also been exported to all over the world, from Taiwan, Japan, South Korea, China, ASEAN countries, the United Arab Emirates, Russia, Europe and North America.
Lienchy Metal has been offering customers high-quality pre-painted and anti-fingerprint metal sheets, both with advanced technology and 30 years of experience, Lienchy Metal ensures each customer's demands are met.