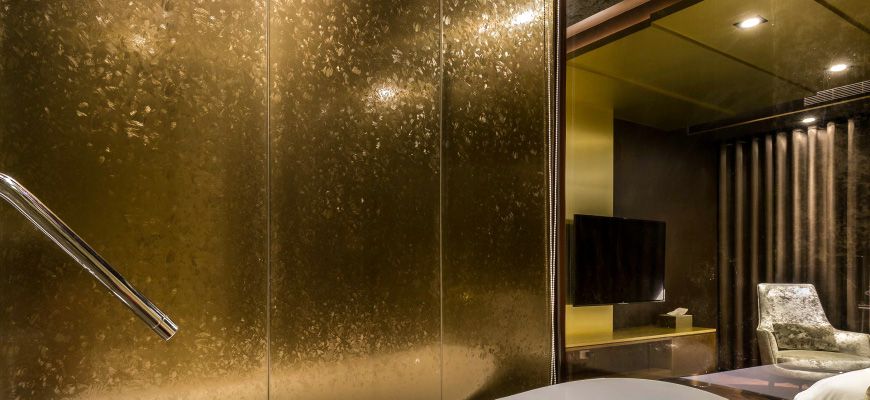 Titanium Coated Stainless Steel
Give Stainless Steel a Variety of Elegant Colors and Patterns
The material characteristics and color of typical stainless steel often leave much to be desired. However, Lienchy has introduced DSP titanium stainless steel to greatly change people's preconceptions of stainless steel. This innovative product employs physical vapor deposition (PVD) titanium ion coating and anti-fingerprint nano ceramic coating, resulting in a surface that showcases remarkable diversity and high quality.
---
DSP Titanium Stainless Steel (processing)
‧Lienchy's DSP Titanium Stainless Steel employs the latest aerospace technology in PVD titanium ion coating, delivering a luxurious and consistent color finish.
‧Environmental Friendly: This product line is environmentally friendly, ensuring that the entire production process is free of pollution. As a result, it has obtained innovative green technology certification and has passed the GREENGUARD non-toxic certification of the United States.

DSP Titanium Stainless Steel Composite Plate
‧Lienchy's DSP Titanium Stainless Steel Composite Plate series showcases a wide range of elegant patterns and titanium colors that are suitable for various interior decorations, such as walls, ceilings, and furniture.
‧These composite steel plates can be pasted on different metal materials, such as galvanized copper plates, to enhance the flexibility of the materials.
‧This environmentally friendly material is ideal for public areas and places that require a high degree of cleanliness, such as hospitals, kindergartens, and schools.
‧The nano-ceramic multifunctional coating on the surface of this product can also be applied to kitchen furniture and interior decorations. It can be attached to wood or steel plates and can be used both indoors and outdoors.
What is titanium?
Physical vapor deposition (PVD) is a process for depositing vaporized material onto a target object. It involves the release of positively charged titanium-containing molecules by applying a positive voltage to a titanium alkoxide target in a high-temperature vacuum. In the vacuum chamber, a negative voltage is applied to the object to be coated, such as a stainless steel blank. This negative voltage attracts the positively charged titanium molecules, which are then deposited onto the surface of the stainless steel blank.
PVD has made significant contributions in various fields, including the automotive, electronics, and other industries. It is an advanced surface treatment process that has rapidly gained popularity in the field of surface treatment.
Titanium-blankd coating features:
Film Hardness: DSP titanium blank product film hardness test with vickers hardness,10 times the hardness of general stainless steel.
Film adhesion strength: A blade mark of 2 mm width was drawn with a blade and the surface film layer was peeled off with a 3M tape.The titanium-coated titanium blank has no peeling on the surface.
The impact test: Uses the DuPont impact machine to impact the 1 kg steel ball from a position of 50 cm high.The surface of the DSP titanium-blankd has no discoloration or visually noticeable damage.Ion coated DSP titanium blank-hardness(HV):2250 stainless steel sus304-hardness(HV):150~170
Anti-wear: Using SUGA wear test machine has 500g pressure using an eraser to wipe back and forth 200 times,0.5 micron The titanium blankd ion film is not damaged or peeled off.
Wear-resistance:Hardness is measured by the Kuremence wear tester,and the wear resistance of the titanium-coated titanium ion plating film is more than three times that of the chemical coating.Ion coated DSP titanium blank-wear resistance(N):15.7N Chemical coating wear resistance(N):4.9N
Artificial sweat test: Ion coated sheet soaked in artificial sweat of pH 4.5(JIS LO 848)Eight hours,then as for 16 hours at room temperature.
•DSP titanium blank/gold-anti-sweat corrosion:results-no change
•Copper-anti-sweat corrosion:results-porous hole corrosion/multiple corrosion
Anti-humid corrosion: DSP titanium blank placed at 50°C and 98%humidity When the environment was 500 hours,there was no rust or color change.
Product specification
Product Name
TI-COLOR
INOXTEEL
Color
Product Photo
Finishing
Type
Sheet
Sheet
Blank Thickness
1.2/1.5t
1.5t
1.5t
1.2t
1.2t
Width
1219mm
600mm
Length
2438mm
2438mm
In Stock
v
v
x
v
v
Product Name
VERNOX
Color
Bronze
Product Photo
Finishing
Type
Sheet
Blank Thickness
1.26t
width
600mm
Length
2438mm
In Stock
v
Product Name
VERNOX
Color
Black
Product Photo
Finishing
Type
Sheet
Blank Thickness
1.26t
Width
600mm
Length
2438mm
In Stock
v
Please refer to the actual color of the product.If you have any requirement of sample,please send an inquiry to us.
Anti-Fingerprint Stainless Product
If you are interested in similar product,ourAnti-fingerprint Stainless Steelmay be an option for you!Or you can scroll down to our product page for more information.
Package Method
We ship the product in coil or sheets, with customer assigned service, Lien Chy Metal will meet your expectation, like we always do, for more information, please refer to Protective Film and Package

Company Profile
For more information, click here to download

Download
Give Stainless Steel a Variety of Elegant Colors and Patterns | Antimicrobial & Anti-Fingerprint Steel Sheet Manufacturing | Lienchy Metal
Based in Taiwan since 1992, LIENCHY LAMINATED METAL CO., LTD. has been a pre-coated steel products manufacturer. Our main metal products, include Titanium Coated Stainless Steel, pre-coated steel sheet, PPGI, PPGL, PPAL, pre-painted steel sheet, pre-finished steel sheet, anti-fingerprint stainless steel, pvc laminated metal sheet, pvc cladded metal sheet, PVDF laminated metal sheet, titanium coated stainless steel sheet, pre-painted metal sheet, coil steel sheet and titanium coated stainless steel sheet, which are manufactured with a 350M roll-to-roll production line and 50,000 tons annual production capacity..
Lienchy Metal is capable of manufacturing ISO certified 1.6mm-thick laminated steel sheets and meet SGS, RoHS and GREENGUARD standards. We are long-term partner of EU and US home appliance brands and Japanese elevator factories, our products have also been exported to all over the world, from Taiwan, Japan, South Korea, China, ASEAN countries, the United Arab Emirates, Russia, Europe and North America.
Lienchy Metal has been offering customers high-quality pre-painted and anti-fingerprint metal sheets, both with advanced technology and 30 years of experience, Lienchy Metal ensures each customer's demands are met.