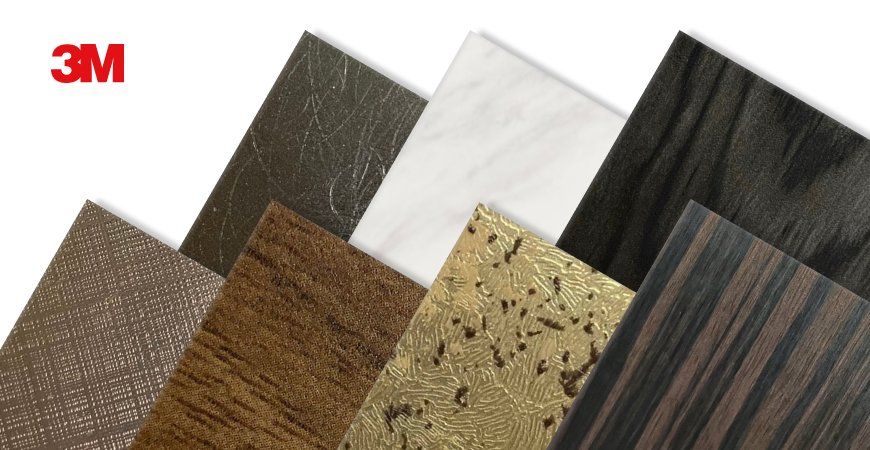 3M DI-NOC Film
3M's decorative film series with flame resistance, provide a variety of textures, colors and styles
Lienchy Metal has introduced the DI-NOC film series from the renowned international brand, "3M," specifically developed for architectural decoration purposes.
---
The 3M DI-NOC film is a composite material that comes in a range of aesthetic and luxurious colors. With various metal substrates or panels, you can easily mix and match different materials and styles, and the surface is easy to clean and maintain. Whether you are decorating indoor or outdoor spaces like wall panels, ceilings, cold room storage partitions, or garage gates, it can create a great visual effect.

The 3M DI-NOC film has passed the fire resistance regulation CNS 14705, class 1 and class 2 (DI-NOC film pasted on the calcium silicate board surface), and the formaldehyde test. Some series of 3M DI-NOC have good weather-resistant performance, making it ideal for outdoor use. If you want to beautify your living or office space and also have environmental protection and health certification, the 3M DI-NOC decorative film series is your best choice.
3M DI-NOC Series of Color
If you have customized demand like woodgrain series,stone texture series,plain series,rock texture,metallic woodgrain,cement texture,metallic series,gold foil series,etc.
Please leave your requirements in inquiry section below.
No.
Dark Walnut Wood
(DI-F21H)
Dark Pine/Larch Wood
(DI-F70)
Dark Ebony Wood
(DI-M76)
Dark Brown Metallic texture
(DI-V83)
Image
No.
Brown metallic Hairline
(DI-V87)
Golden Metal Leaf Pettern
(DI-V52)
White/ Gray Stone Pattern
(DI-S31)
Image
*Inform us whether you need back-side glueor laminated process
Company Profile
For more information, click here to download

Download
3M's decorative film series with flame resistance, provide a variety of textures, colors and styles | Antimicrobial & Anti-Fingerprint Steel Sheet Manufacturing | Lienchy Metal
Based in Taiwan since 1992, LIENCHY LAMINATED METAL CO., LTD. has been a pre-coated steel products manufacturer. Our main metal products, include 3M DI-NOC Film, pre-coated steel sheet, PPGI, PPGL, PPAL, pre-painted steel sheet, pre-finished steel sheet, anti-fingerprint stainless steel, pvc laminated metal sheet, pvc cladded metal sheet, PVDF laminated metal sheet, titanium coated stainless steel sheet, pre-painted metal sheet, coil steel sheet and titanium coated stainless steel sheet, which are manufactured with a 350M roll-to-roll production line and 50,000 tons annual production capacity..
Lienchy Metal is capable of manufacturing ISO certified 1.6mm-thick laminated steel sheets and meet SGS, RoHS and GREENGUARD standards. We are long-term partner of EU and US home appliance brands and Japanese elevator factories, our products have also been exported to all over the world, from Taiwan, Japan, South Korea, China, ASEAN countries, the United Arab Emirates, Russia, Europe and North America.
Lienchy Metal has been offering customers high-quality pre-painted and anti-fingerprint metal sheets, both with advanced technology and 30 years of experience, Lienchy Metal ensures each customer's demands are met.