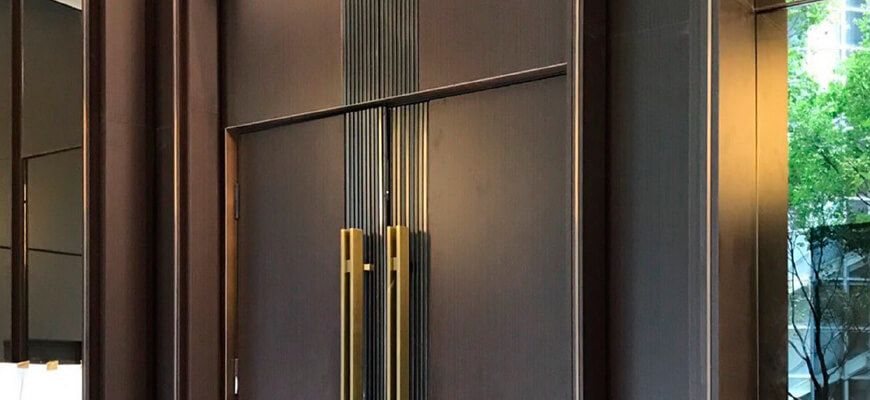 Laminated Metal
Laminated metal, also known as Colored Steel, Vinyl Chloride Coating Metal (VCM), is beautiful, durable and easy to maintain
Laminated metal, also known as colored steel, pre-finished steel, cladded metal or vinyl chloride coating metal (VCM), is a metal product with a color film on the surface. It is produced by using common base materials such as electro-galvanized (SECC), hot-dip galvanized (SGCC), aluminum (AL), or stainless steel (SUS) sheets and attaching color films to the surface using Lienchy Metal's exclusive technology.
---
In general, the colors and materials of normal metal sheets are similar, leading to a relatively limited selection. However, Lienchy's laminated metal products offer a wide range of colors, patterns, and materials, which can bring colorful and eye-catching appearances to otherwise rigid metal sheets. This provides customers with a wealth of choices. In addition to the visual advantages, laminated metal also has practical benefits such as well durability, fire resistance, corrosion resistance, good weather resistance, and easy processing ability.

Laminated metal has a broad range of applications, including door panels, wall panels, ceilings, and other indoor/outdoor decorative materials, as well as elevators, cases of home appliances and electronic appliences.
Product advantages and specifications
Advantages
Durability:Lamination protects the metal substrate, extending its lifespan.
Fire Resistance:Complies with CNS 14705, class 2 fire resistance regulation.
Processability:Lienchy's laminated metal can undergo stamping, bending, punching, and other processes without peeling or warping.
Chemicals Resistance:Resistant to acids, alkalis, and other chemicals.
Non-toxic and Mildew-proof:Complies with RoHS standards.
If your product needs to be used outdoors, please refer to the Outdoor Solution below.
Product Processing
| | | | | |
| --- | --- | --- | --- | --- |
| | | | | |
| T Bending | Deep Drawing | Punching | Emboss | V Bending |
| | | | | |
| --- | --- | --- | --- | --- |
| | | | | |
| Roll Forming | Stamping | Printing | CNC Engraving | 180° Folding |
Product specifications
Film Series: Woodgrain, Stone Texture, Plain, Texture, Metallic, Mirror (PVC+PET) or Supplied Materials
Thickness: 0.4mm - 1.6mm, using best grade steel from Taiwan or Japanese steel mills
Size: Width 610mm - 1250mm / Optional Length
Packaging Method: Coil or blank, also provide slitting and cutting service
Protective Film: Transparent, Black and white film
Minimum Order Quantity: 3 Metric Tons (customized production)
Class 2 of fire resistance
Application Presenting
Elevator:Elevator,Car Interior,Elevator Interior,Elevator Door Panel
Modular Panel:Freezer Board (food grade),Clean Room Board
Maritime:Ship Compartment,Ship Door Panel,Ship Wall Panel (ship grade membrane)
Appliances:Refrigerator Stainless Door Panels,Appliance Stainless Chassis,Stainless Steel Range Hood
Furniture:Woodgrain Cabinets,Wine Coolers,Refrigerators,Cake Cabinets,Display Stands,Electric Control Box
Upholstery:Door Panel,Wall Panel,OA Compartment Panel,Bathroom Compartment Panel,Bathroom Wall Panel
Computer,Communication,and Consumer electronics:Computer Case,Equipment Machine Outer Box,Mouse Pad (coated aluminum blank)
Storage Equipment:Mail Box,Trash Can,Storage Box,Moisture-proof Box,Water Storage Tube (food grade)
Safety Planning:Fire-Door Panels
Space Design:Ceiling,Grille
Combustion Performance
Standard
GB 8624-2012,GB/T8624-2007,GB/T20284-2006
No.
Testing Items
Unit
Specifications
Test Results
Determination
1
Flammability Test
---
The sample is loaded onto the sample clamp,which is vertically fixed in the combustion chamber. The burner is tilted 45 degrees and the flame length is adjusted to 20+-2mm. The fuel gas is 95% pure propane gas and is ignited on the sample for 30s.
1-1
Edge Ignition
---
None of the flame tip on the five samples reaches 150mm mark within 60s of ignition
Pass
Pass
1-2
Dropping the pilot
---
The filter paper is not ignited.
Pass
Pass
2
Monomer combustion test
---
The volumetric flow rate of propane is .5 m³/s - .65 m³/s,the ambient temperature (20+-10)℃. The flame is produced by propane combustion. Gas combustion heat output is (30.7+-2)KW. The combustion time is 20 min.
2-1
FIGRA
W/s
FIGRA ≦ 250
153.5
Pass
2-2
LFS
---
Not yet reached the edge of the sample.
Pass
Pass
2-3
THR 600s
MJ
THR 600s ≦ 15
9.9
Pass
2-4
SMOGRA
m²/s²
SMOGRA ≦ 180
112.4
Pass
2-5
TSP 600s
m²
TSP 600s ≦ 200
114.6
Pass
3
Combustion performance
---
The amount of smoke
Flaming droplets
C
---
S2
d1
Remarks
The samples were all tested under the required technical environmental condition.
Result
Combustion performance levels:C-s2,d1
Fire Resistance Certificate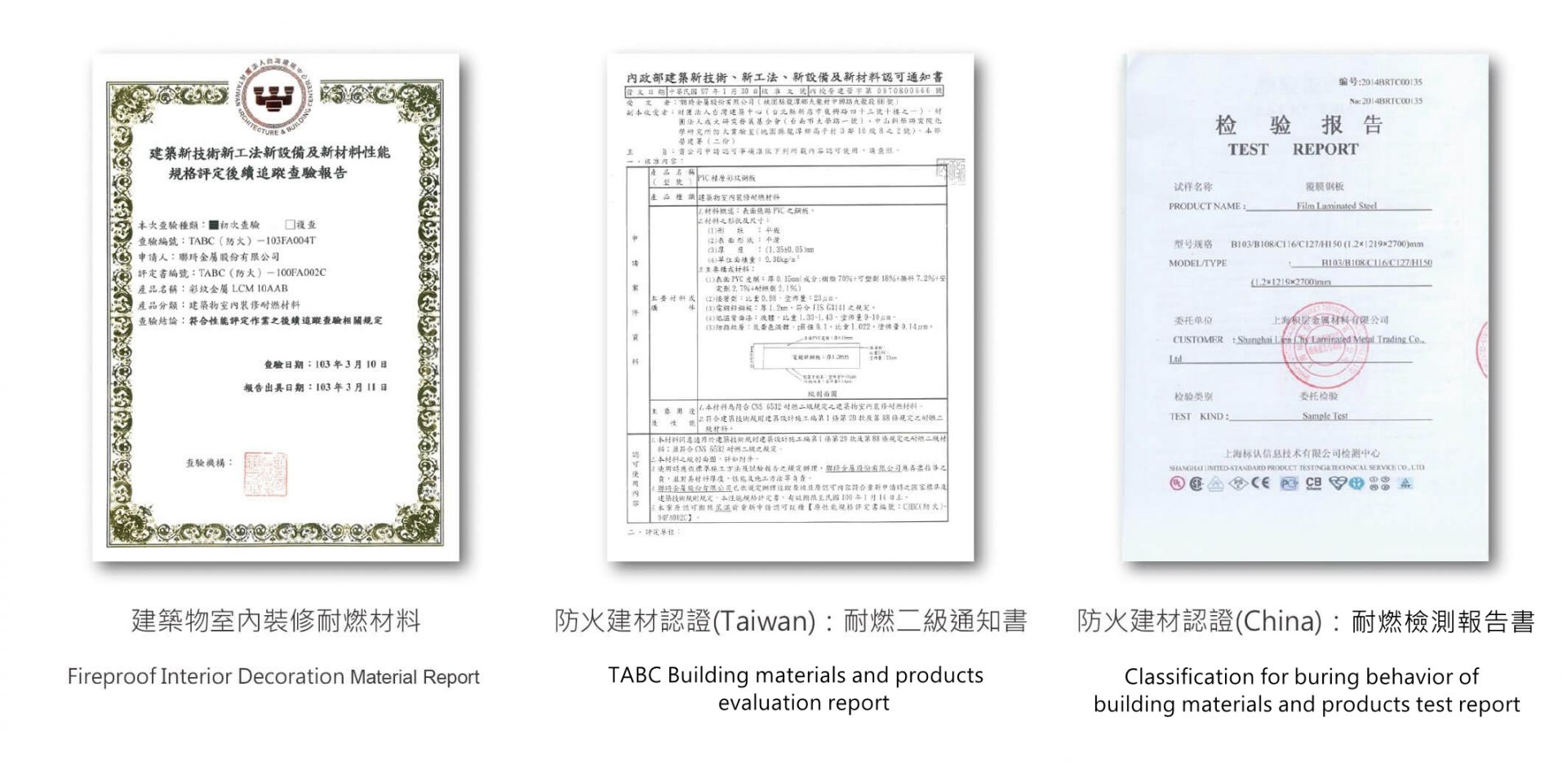 Package Method
We ship the product in coil or sheets, with customer assigned service, Lien Chy Metal will meet your expectation, like we always do, for more information, please refer to Protective Film and Package

Files Download
Company Profile
For more information, click here to download

Download
Laminated metal, also known as Colored Steel, Vinyl Chloride Coating Metal (VCM), is beautiful, durable and easy to maintain | Antimicrobial & Anti-Fingerprint Steel Sheet Manufacturing | Lienchy Metal
Based in Taiwan since 1992, LIENCHY LAMINATED METAL CO., LTD. has been a pre-coated steel products manufacturer. Our main metal products, include Laminated Metal, pre-coated steel sheet, PPGI, PPGL, PPAL, pre-painted steel sheet, pre-finished steel sheet, anti-fingerprint stainless steel, pvc laminated metal sheet, pvc cladded metal sheet, PVDF laminated metal sheet, titanium coated stainless steel sheet, pre-painted metal sheet, coil steel sheet and titanium coated stainless steel sheet, which are manufactured with a 350M roll-to-roll production line and 50,000 tons annual production capacity..
Lienchy Metal is capable of manufacturing ISO certified 1.6mm-thick laminated steel sheets and meet SGS, RoHS and GREENGUARD standards. We are long-term partner of EU and US home appliance brands and Japanese elevator factories, our products have also been exported to all over the world, from Taiwan, Japan, South Korea, China, ASEAN countries, the United Arab Emirates, Russia, Europe and North America.
Lienchy Metal has been offering customers high-quality pre-painted and anti-fingerprint metal sheets, both with advanced technology and 30 years of experience, Lienchy Metal ensures each customer's demands are met.