PVC Film Laminated Metal
The pre coated metal is as name as a colored steel plate, a pre-finished steel plate, a cladded metal, vcm, pre-painted steel. The advantage of Lienchy laminated metal is processability that has excellent adhesion and ductility. It still Maintain a perfect appearance after punching/stamping, embossing, V-bending and 180-degree folding especially. Customers even mistakenly think it is pre-coated product. In addition to galvanized steel and stainless steel also can Laminated on aluminum. If you have new product development or other special needs, please feel free to contact us for details.
Laminated Metal as known as metal laminate sheets, pre coated metal, pvc clad metal, vcm steel.
It is a composite material made up of a colored film and a metal substrate. It combines beautiful dazzling colors and designs with the durability of base metal materials. Not only can the coated metal provide a variety of visual aesthetics, but it is also a versatile and practical solution. The coated metal is flame retardant, easy to maintain, and has good weatherability.
Function Description
Durable, durable and easy to maintain
Good flame resistance, it is a secondary flame resistant material
Good processability, can be stamped, bent, punched
Resistance to acids and alkalis and chemicals, good corrosion resistance
weather resistant
UV resistant
Non-toxic, mildewproof, special environmentally friendly materials

Application product
Elevator: elevator car interior, home elevator interior, elevator door panel
Modular panel: freezer board (food grade film), clean room board
Ship: ship compartment, ship door panel, ship wall panel (ship grade membrane)
Home appliances: refrigerator stainless door panels, appliance stainless chassis, stainless steel range hood
Furniture: wood grain laminate cabinets, wine coolers, refrigerators, cake cabinets, display stands, laminates
Upholstery: door panel, wall panel, OA compartment panel, bathroom compartment panel, bathroom wall panel
3C products: notebook computer case, computer case, equipment machine outer box, mouse pad (coated aluminum plate)
Storage equipment: mail box, trash can, storage box, moisture-proof box, water storage tube (food grade film),
Space design: ceiling, grille
Safety planning: fire door panels

Steel Product Structure
Steel Product Post Processing Method
| | | | | |
| --- | --- | --- | --- | --- |
| | | | | |
| T Bending | Deep Drawing | Punching | Emboss | V Bending |
| | | | | |
| --- | --- | --- | --- | --- |
| | | | | |
| Roll Forming | Stamping | Printing | CNC Engraving | 180° Folding |
Steel Products Protective Film Option
Our coated steel products and painted steel products will be coated with a protective film to protect our steel products, avoiding the damage and fouling of PVC film or anti-fingerprint painted surface affected by external forces during processing. It is still in perfect condition after various processing procedures and assembly to complete the final product.
Steel Products Protective Film Type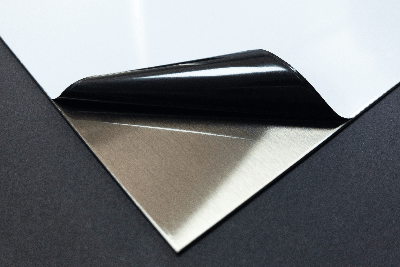 Black/White Protective Film
The protective film is made of Polyolefins, one side is black and one side is white, completely covering the substrate. Generally available for processing, commonly used thickness of about 0.08mm, suitable for Laminated steel(vcm steel).
Steel Product Package Type
Product Package
Item
Width
Length
Torrlence
Inside Diameter
Sheet
200-1250 mm
Any Spec.
±1 mm
--
Coil
58-1250 mm
Any Spec.
±0.5 mm
508 mm
Item
Type
Thickness
Tolerence
Base Metal
CR, SECC, SGCC, AL, AL/MG, SU, Other metal
0.286-1.6 mm
According to JIS
Surface Layer
PVC,PET+PVC,PP,PVC+PP,PVF
0.05-0.25 mm
±0.04 mm
Features
Multiple applications: It can be applied to the appearance decoration of a variety of products, and has good structural strength.
Diverse pattern choices: The color pattern is varied, and different patterns and styles can be used depending on the situation, adding design style.
Convenient processing: It can be processed by high-precision processing equipment, such as waterjet cutting, laser cutting, bending, stamping, punching, deep drawing, CNC cutting, printing and spraying.
Excellent quality: Strictly select good quality metal substrates and color film, and match the "roll-to-roll film continuous production line" to produce a large number of stable quality products.
Simple maintenance: Because the membrane protects the metal substrate from corrosion, the membrane can be maintained with water, and the surface is slightly damaged. It can be easily recovered by hot air blowing. Significantly increase product life.
Product specifications
Colors of PVC films: woodgrain, stone texture, plain PVC, texture, metallic, mirror (PVC+PET) or supplied materials.
Sheet Thickness: 0.4mm ~ 2.0mm, the raw material source is the best grade steel of Taiwan or Japanese steel mills.
Size: Length is not limited (depending on the length of the material), width can be 58mm ~ 1250mm.
Packaging Method: Coil or Sheet can ship, and can be slitting and cutting by customer's requirement.
Protective Film: Transparent, black and white film can be used.
Minimum Order Quantity: 3 metric tons. (customized production)
---
Document Download
PVC Film Laminated Metal Professional Manufacturer - Lienchy Laminated Metal
Based in Taiwan, LIENCHY LAMINATED METAL CO., LTD. is a PVC Film Laminated Metal supplier and manufacturer since 1992.
We are capable of manufacturing 1.6mm-thick laminated panel with total production capacity that exceeds 50,000MT per year, is ISO 9001 certified, and meets SGS, RoHS and GREENGUARD standards. We are also capable of entering new sectors and supply to manufacturers of 3C devices, appliances, elevators, building materials, prefabricated unit bathrooms, marine/offshore accommodations. The main products include pre-coated steel, anti-fingerprint coating stainless steel and painted steel coil.
Lienchy Laminated Metal has been offering customers high-quality anti-fingerprint coating stainless steel, painted steel coil and pre-coated steel, both with advanced technology and 26 years of experience, Lienchy Laminated Metal ensures each customer's demands are met.
---