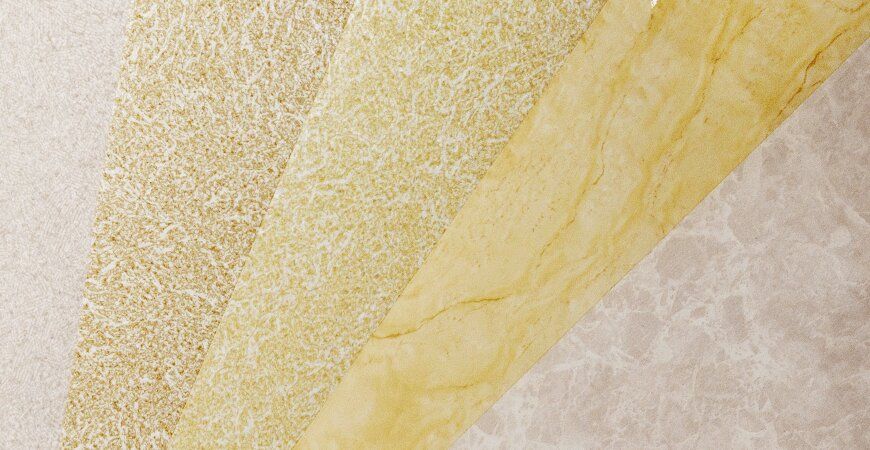 Stone Texture Series Laminated Metal
Combined with metal sheet and stone-patterned film, lighter than traditional slate
Lienchy Metal offers a unique and innovative solution for building materials with our stone texture series laminated metal. This series combines the realistic texture of PVC film with metal sheets to produce beautiful and lightweight materials that can replace traditional slate building materials. The use of metal substrates such as stainless steel and electro-galvanized, along with flame-resistant PVC film, ensures that the laminated metal is not only aesthetically pleasing but also highly durable.
---
Stone texture series laminated metal is easy to maintain and clean, making it an excellent option for interior spaces such as car interior design, wall panels, door panels, and ceilings. Additionally, the variety of colors available in the series, including emerald macadam, amazon macadam, florence macadam, marble phoenix, and cloud crystal, make it easy to fit any design style.

Unlike traditional laminated metal, Lienchy Metal's stone texture series laminated metal does not use normal adhesive. Instead, a unique gluing technology is used to combine the film and the metal sheet, ensuring that the laminated metal is not only practical but also environmentally friendly.
Product Application and Specification
Suggested Use:
Interior Decoration:
1.Wall panel
2.Ceiling and Grille ceiling
3.Partition panel
4.Elevator
5.System case(e.g. computer case, case or panel of consumer electronics)
6.Automobile interiors
General Testing
Item
Name
Reference Standard
Test Result
Appearance
Gloss
JIS K 5400, ASTM D523
Pass
Color difference
CIE1 976Lab, ASTM E313, ATM D2244
See Sample
Adhesive property(100 squares method)
JIS K 5400, ASTM D3359
Pass
Workability Test
Lamination property(Erichsen test)
JIS K 6744, JIS B 7729, LCM spec.
Pass
Bending property
JIS K 6744, ASTM D4145
Pass
Low temperature processing property
JIS K 6744, ASTM D2671
Pass
Durability Test
Chemical resistance
JIS K 6744
Pass
Stain resistance
JIS K 5400, CNS 423, CNS 11312, CNS 2984
Pass
Boiling water resistance
LCM spec., JIS K 6744, ASTM D2485
Pass
Abrasion resistance
ASTM D4060
Pass
Salt spray test
JIS Z 2371, JIS K 8180,JIS Z8802
Pass
Ultraviolet ray arc lamp test
JIS A 1415, JIS K 6744
Pass
Cold and hot water circulation test
LCM spec., JIS K 6744, ASTM D33359
Pass
If the application uses for outdoor than you can review the page of our Outdoors Laminated Metal.
Application Presenting
Combustion Performance
Standard
GB 8624-2012, GB/T8624-2007, GB/T20284-2006
No.
Testing Items
Unit
Specifications
Test Results
Determination
1
Flammability Test
---
The sample is loaded onto the sample clamp,which is vertically fixed in the combustion chamber.The burner is tilted 45 degrees and the flame length is adjusted to 20+-2mm.The fuel gas is 95%pure propane gas and is ignited on the sample for 30s.
1-1
Edge Ignition
---
None of the flame tip on the five samples reaches 150mm mark within 60s of ignition
Pass
1-2
Dropping the pilot
---
The filter paper is not ignited.
Pass
2
Monomer combustion test
---
The volumetric flow rate of propane is 0.50 m³/s-0.65 m³/s,the ambient temperature(20+-10)℃.The flame is produced by propane combustion.Gas combustion heat output is(30.7+-2)KW.The combustion time is 20 min.
2-1
FIGRA
W/s
FIGRA ≦ 250
153.5
Pass
2-2
LFS
---
Not yet reached the edge of the sample.
Pass
2-3
THR 600s
MJ
THR 600s ≦ 15
9.9
Pass
2-4
SMOGRA
m²/s²
SMOGRA ≦ 180
112.4
Pass
2-5
TSP 600s
m²
TSP 600s ≦ 200
114.6
Pass
3
Combustion performance
---
The amount of smoke
Flaming droplets
C
---
S2
d1
REMARKS
The samples were all tested under the required technical environmental condition.
RESULT
Combustion performance levels: C-s2, d1
Fire Resistance Certificate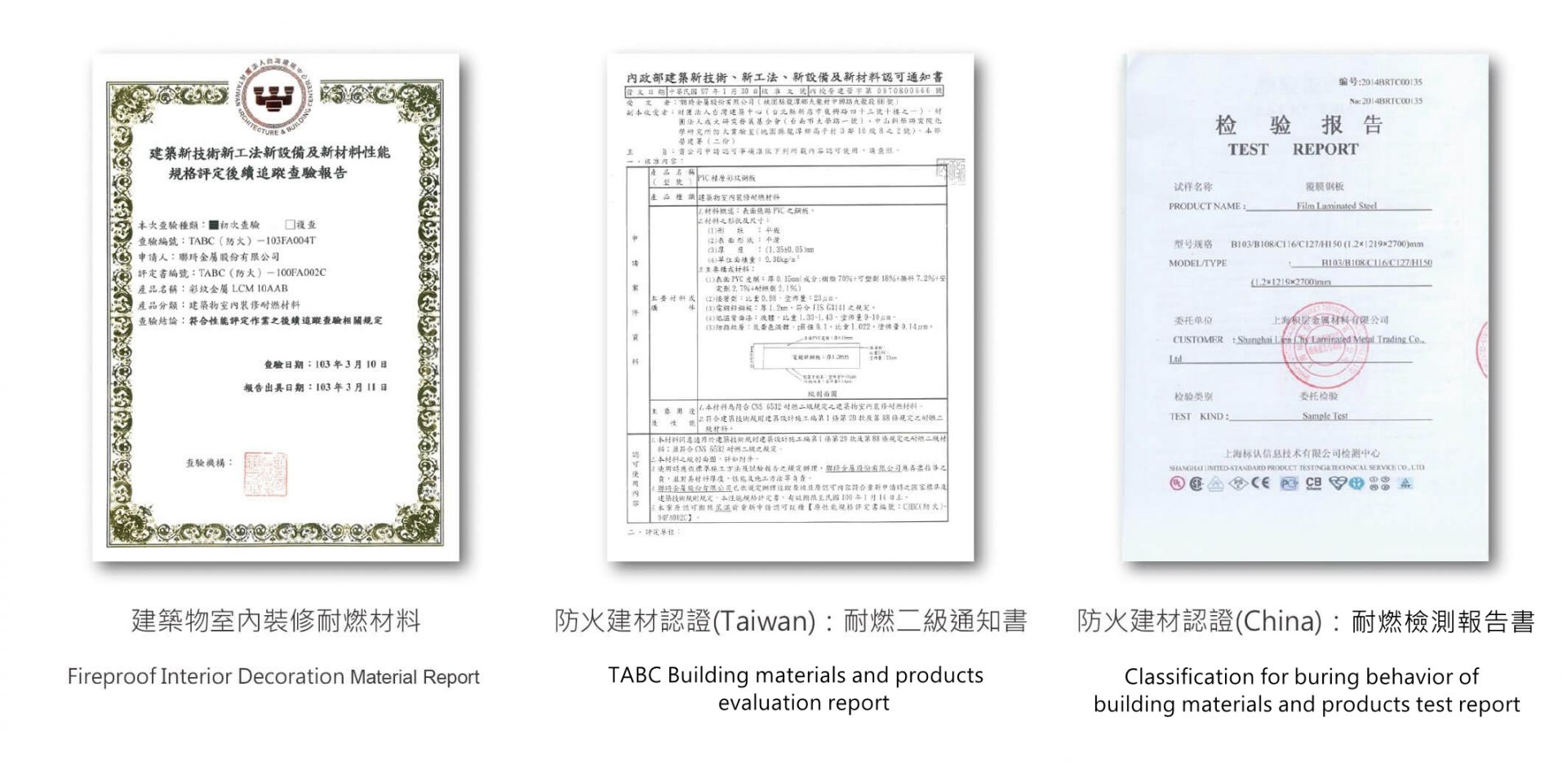 Package Method
We ship the product in coil or sheets, with customer assigned service, Lien Chy Metal will meet your expectation, like we always do, for more information, please refer to Protective Film and Package

Files Download
Company Profile
For more information, click here to download

Download
Combined with metal sheet and stone-patterned film, lighter than traditional slate | Antimicrobial & Anti-Fingerprint Steel Sheet Manufacturing | Lienchy Metal
Based in Taiwan since 1992, LIENCHY LAMINATED METAL CO., LTD. has been a pre-coated steel products manufacturer. Our main metal products, include Stone Texture Series Laminated Metal, pre-coated steel sheet, PPGI, PPGL, PPAL, pre-painted steel sheet, pre-finished steel sheet, anti-fingerprint stainless steel, pvc laminated metal sheet, pvc cladded metal sheet, PVDF laminated metal sheet, titanium coated stainless steel sheet, pre-painted metal sheet, coil steel sheet and titanium coated stainless steel sheet, which are manufactured with a 350M roll-to-roll production line and 50,000 tons annual production capacity..
Lienchy Metal is capable of manufacturing ISO certified 1.6mm-thick laminated steel sheets and meet SGS, RoHS and GREENGUARD standards. We are long-term partner of EU and US home appliance brands and Japanese elevator factories, our products have also been exported to all over the world, from Taiwan, Japan, South Korea, China, ASEAN countries, the United Arab Emirates, Russia, Europe and North America.
Lienchy Metal has been offering customers high-quality pre-painted and anti-fingerprint metal sheets, both with advanced technology and 30 years of experience, Lienchy Metal ensures each customer's demands are met.