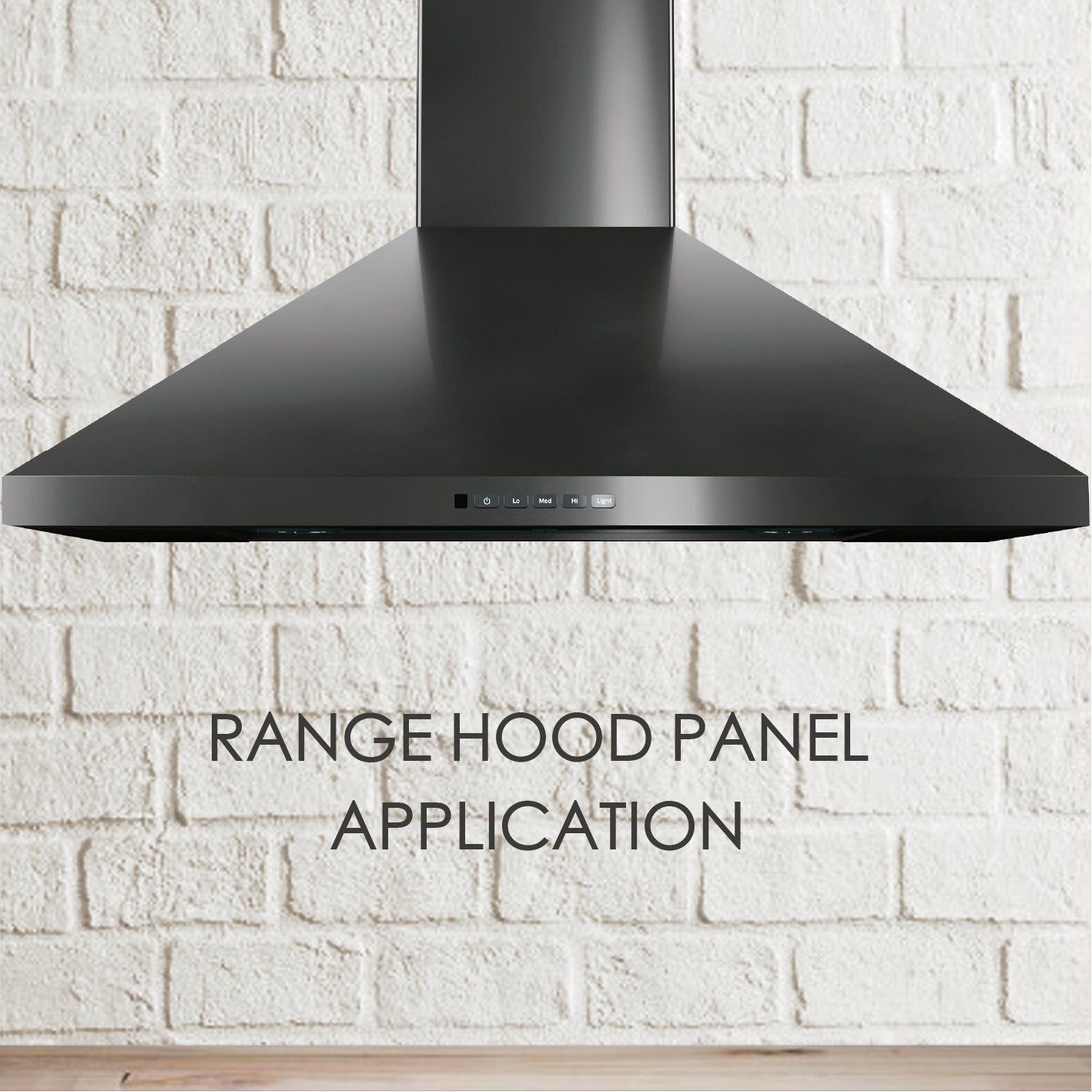 Range Hood Panel
Make the cooker hood added aesthetics and easy tp maintain
In recent years, more and more novel and fashionable exhaust hood, duct cover, kitchen range hood equipment have come out, fingerprints and oil stains are often left on the surface of the range hood through hand contact. If you don't have that much time on cleaning, you will be surprised that appearance of appliances full of stains, so it is very important that the surface be easy to clean, high quality, and does not stick to fingerprints and oil stains. Lienchy Metal's anti-fingerprint stainless steel products can be your best solution for kitchen range hoods, anti-fingerprint stainless steel product is developed to prevent users from leaving fingerprints on the steel surface after touching it, so that kitchen appliances are not easy to stick oil stains, dust or water stains, etc. It can still maintain the metallic luster and retain the texture of metal brush wires after simple maintenance. Please see our introduction below.
---
The Lifespan of Anti-fingerprint Stainless Steel?
The anti-fingerprint stainless steel produced by Lien Chy Metal, after several years of finished products, the anti-fingerprint coating and the metal substrate are still perfectly combined, thanks to the design of the production line with the unique colloid selection and temperature control , Three factors are indispensable.
What's the advantages of Anti-fingerprint Stainless Steel?
Most stainless steel is used for food contact, such as refrigerators, dishwashers, tablewares, etc. It must be anti-rusted, also easy to clean and reusable. Lien Chy Metal's coats a layer of acrylic anti-fingerprint coating or nano-ceramic anti-fingerprint coating on the surface of the stainless steel to enhance the fingerprint resistance and corrosion resistance of the product, moreover, enhance the texture in order to reach the same effect like European and American home appliances.
Why Lien Chy Metal?
Lienchy Metal's anti-fingerprint stainless steel can apply with different colors, and the company uses continuous roll to roll coating technology to produce, the AFP coating will perfectly fits on the metal substrate, which can save processing costs and scale Production advantage.
The surface of stainless steel has an anti-fingerprint coating, which is an oleophobic and hydrophobic surface coating technology. Effectively reduce dirt and grease adhesion

It has a glossy appearance like a car paint, and the hairline effect of stainless steel can be seen. Showing metallic luster

Good grease resistance and corrosion resistance, effectively increasing its lifespan of the range hood panel

It has passed the rigorous abrasion resistance test and peeling force test of major international home appliance manufacturers, with excellent quality

The anti-fingerprint-resistant formula exclusively researched by Lienchy, can be modified and adjusted in accordance with the needs of customers
How to send inquires or request for examples
Want to know the detail of the product? Please refer to the following pages
There will be a slight color difference between the picture and the actual product due to the display device and shooting angle, please refer to the actual color of the product.
Please fill in the inquiry down below, we will contact you ASAP. If you need samples, please send us your contact information.
We adopt order-to-order production. If you have a limited demand, please refer to Product in Stock or leave an inquiry to us.
Cases for Reference only
Further Readings