Products
Lienchy Metal has a wide range of products, if you have additional demand, customized service is also available.
Lien Chy Metals prides ourself on the exceptional degree of customization capabilities and processing flexibility. Our team is dedicated to assisting customers in the development of a wide range of products, including laminated metals, anti-fingerprint coating applications, titanium stainless steel plates, and pre-coated metals.

In addition to our comprehensive product offerings, we also provide customized OEM/ODM services for laminated steel products, as well as steel coil cutting and steel coil slitting. Our range of services is both flexible and diversified, ensuring that we can meet the needs of our clients.

At Lien Chy Metal, we are committed to providing our clients with unparalleled quality and service. We believe that our attention to detail and commitment to excellence make us the ideal business partner for any organization.
---
Product Advantages

At Lienchy Metal, we have been at the forefront of the metal surface processing industry since 1992. We specialize in developing unique laminating and coating technologies while utilizing only the highest quality raw materials. Our commitment to quality is the foundation of our business, and we continually improve our manufacturing processes to meet the high expectations of our customers.
Third-party certifications:Our products are independently tested and certified by leading third-party testing units, including SGS, TABC (Taiwan), and Biaodu (China). These tests cover a wide range of safety criteria, including antibacterial and fire protection, ensuring that our customers can trust in the safety and quality of our products.
Diversity:We take pride in offering a diverse range of laminated metal and anti-fingerprint stainless steel products that can be customized to meet the unique needs of our customers. Our products can be matched with different materials and colors, providing a level of flexibility and customization.
High-quality raw materials: We source our raw materials from well-known steel mills, ensuring that we only use steel with stable and excellent quality. This allows us to produce products that not only look great but also offer superior durability and lifespan.
Our Service Process

Production process
Search: Begin by browsing our products, including laminated metal and anti-fingerprint stainless steel, through our website, telephone, or email.
Inquiry: Once you've identified the products you're interested in, send us an email or call us to inquire about them. Be sure to include information about the end product, the type of steel, the quantity demanded, specifications, and delivery time needed.
Quote: After reviewing your inquiry, we will provide you with a quotation that meets your specific needs.
Contract:Once you've confirmed the details and accepted the quote, we will begin the production process.
Delivery: Once your product is well-packaged, we will arrange shipment to your desired destination according to the delivery date specified in the contract.
Product Layer Diagram
Laminated Metal
Start processing from metal substrate, up down two layers (adhesive and back side treatment), with 5 stories high machine and roll to roll laminating tech, after baking, starting lamination with flim (polymer film), last process would be protective film adhesion, that's how we processing laminated metal.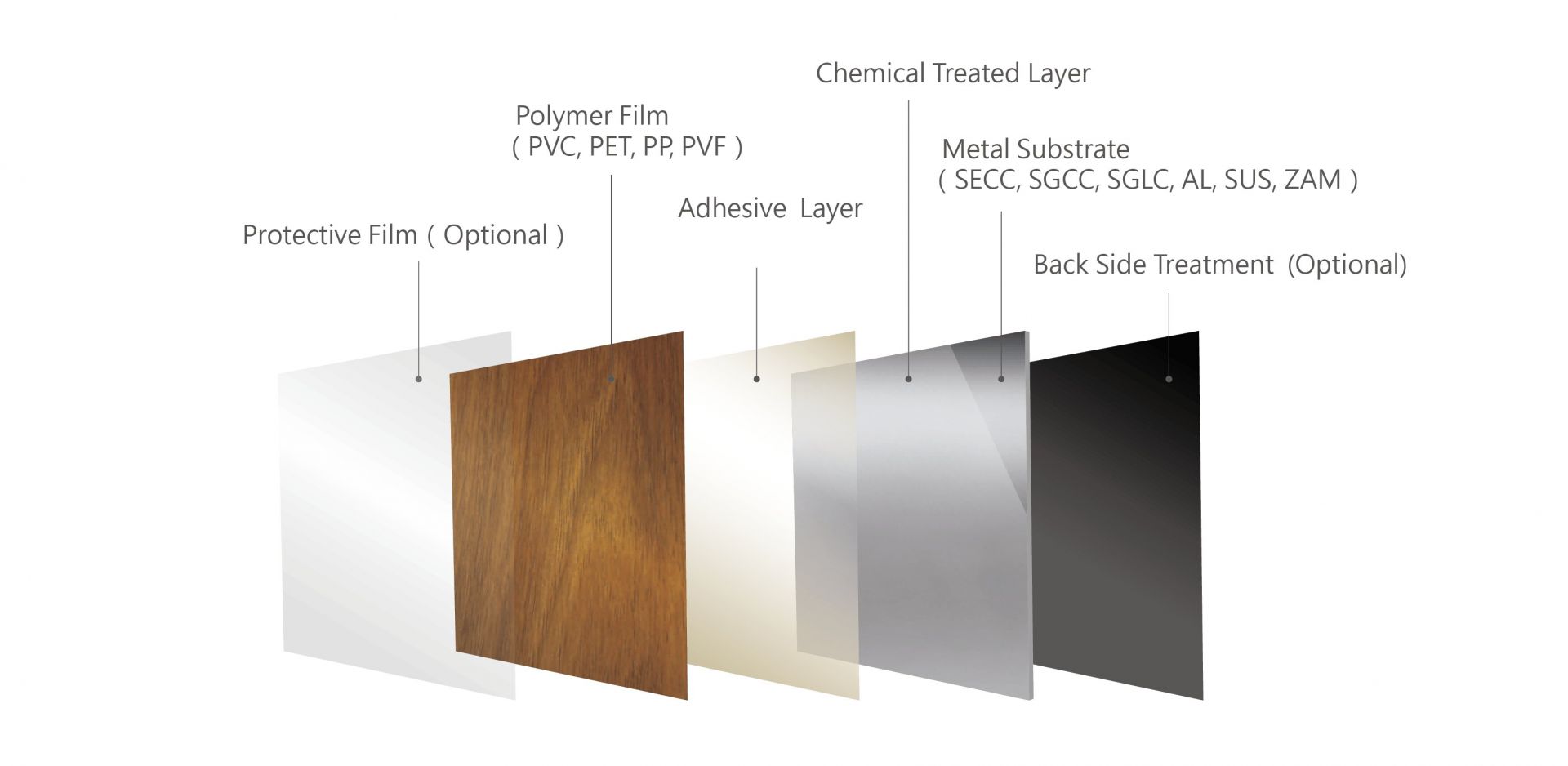 Anti-Fingerprint Stainless Steel
Start processing from stainless steel substrate, up down two layers (adhesive and back side treatment), with 5 stories high machine and roll to roll coating tech , after baking, start coating with AFP resin, last process would be protective film adhesion, that's how we processing AFP SUS.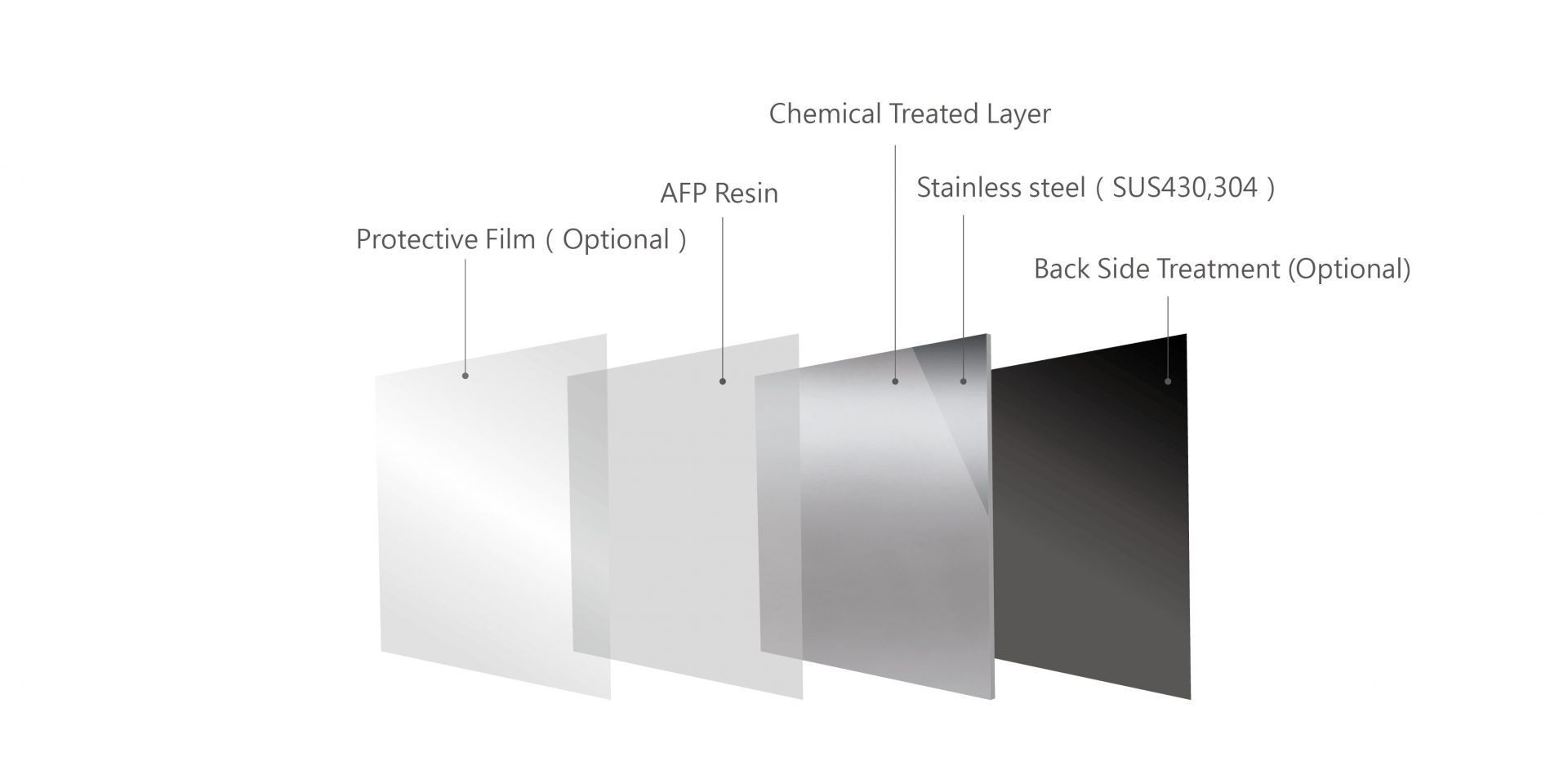 Please scroll down for more product information
Files Download