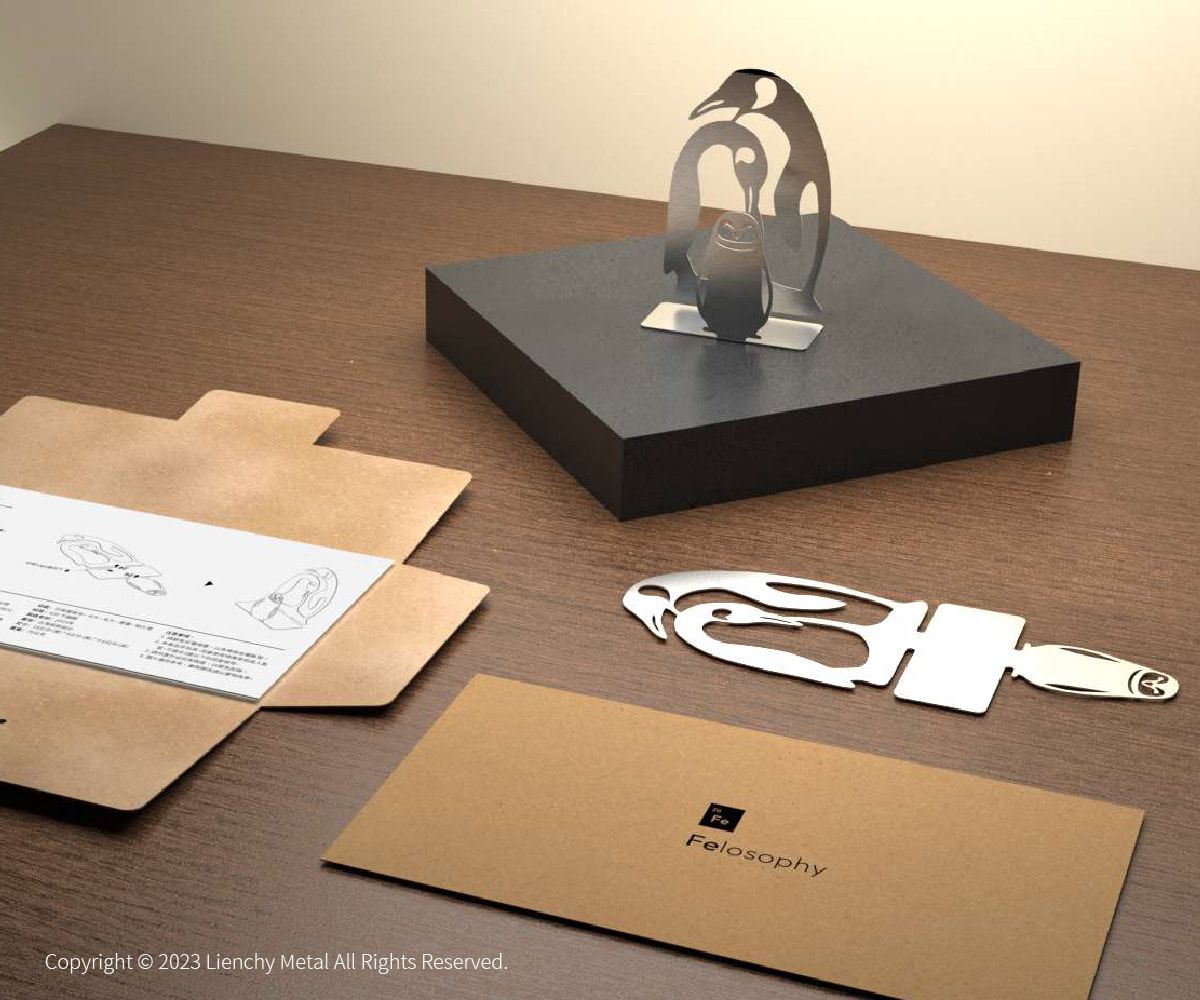 Stainless Steel Gift
Transform stainless steel remnants into well-designed stainless steel products
Lienchy Metal transforms premium stainless steel remnants into a collection of high-quality stainless steel products, which encompasses businesscard/envelope holders and candlesticks suitable for both home and office spaces.

Through meticulous design and precise metal craftsmanship, we imbue these remnants with renewed value, while also symbolizing our commitment to environmental sustainability.
---
As corporate awareness of social responsibility and environmental consciousness continues to rise, Lienchy Metal is dedicated to exploring diverse applications of stainless steel products to uphold the principles of ESG and SDGs12, beneficial to society and the environment. As a result, we have developed a new product line using top-quality anti-fingerprint stainless steel remnants to ensure responsible resource utilization.

Featuring delicately cut animal shapes and three-dimensional silhouettes, our stainless steel gifts showcase the distinctive metal luster and texture inherent in stainless steel. Its robust properties provide resistance to fingerprints, as well as protection against water and moisture, making these products not only visually appealing as home decorations or gifts but also enriching daily life.

To demonstrate the flexibility of metal, all our products are designed for consumers to assemble, offering the joy of hands-on crafting and a sense of achievement.
Stainless Steel Business Card/ Envelope Holder
Say goodbye to the annoyance of scattered business cards, letters, and notes on your desk. Organize them all in our compact and exquisite holders!

Using laser-cut technology, we craft adorable and smooth animal patterns from stainless steel. Through the assembly process, you can experience the unique touch and texture of stainless steel as you fold and shape your own holder.

From the finished product to the packaging, every detail of the holder is thoughtfully considered. It not only organizes name cards, letters, notes, stationery, and other office supplies but also serves as an enjoyable decoration, easing the monotony of workday and bringing pleasure and relaxation.
Candlestick
Inspired by paper cutting art, Lienchy Metal designed a three-dimensional candle holder made of layers of stainless steel plates with different patterns carved on them. The exquisite three-dimensional image created by the candlelight is stunning. These candle holders are not only tools for lighting candles, but also elegant decorations for homes. They add a touch of sophistication to any space and make every moment of lighting a candle an enjoyable experience.
Innovative Stainless Steel Gifts That Combine Artistic Aesthetics And Environmental Concepts
With sustainability as our driving force, Lienchy Metal bestows great value upon high-quality anti-fingerprint stainless steel remnants through innovative, professional, and dedicated metal craftsmanship. We strive to minimize pollution and resource waste in the metal recycling process, encouraging individuals to reflect on their impact on society and the environment.

These unique products not only showcase Lienchy Metal's pursuit of design and aesthetics but also provide a tangible means to practice environmental protection and sustainable development, embodying our commitment to environmental and social values.

If you have any interest in our creative stainless steel product series, feel free to contact us via phone or email. We will promptly respond to your inquiries.
Company Profile
For more information, click here to download

Download
Transform stainless steel remnants into well-designed stainless steel products | Antimicrobial & Anti-Fingerprint Steel Sheet Manufacturing | Lienchy Metal
Based in Taiwan since 1992, LIENCHY LAMINATED METAL CO., LTD. has been a pre-coated steel products manufacturer. Our main metal products, include Stainless Steel Gift, pre-coated steel sheet, PPGI, PPGL, PPAL, pre-painted steel sheet, pre-finished steel sheet, anti-fingerprint stainless steel, pvc laminated metal sheet, pvc cladded metal sheet, PVDF laminated metal sheet, titanium coated stainless steel sheet, pre-painted metal sheet, coil steel sheet and titanium coated stainless steel sheet, which are manufactured with a 350M roll-to-roll production line and 50,000 tons annual production capacity..
Lienchy Metal is capable of manufacturing ISO certified 1.6mm-thick laminated steel sheets and meet SGS, RoHS and GREENGUARD standards. We are long-term partner of EU and US home appliance brands and Japanese elevator factories, our products have also been exported to all over the world, from Taiwan, Japan, South Korea, China, ASEAN countries, the United Arab Emirates, Russia, Europe and North America.
Lienchy Metal has been offering customers high-quality pre-painted and anti-fingerprint metal sheets, both with advanced technology and 30 years of experience, Lienchy Metal ensures each customer's demands are met.