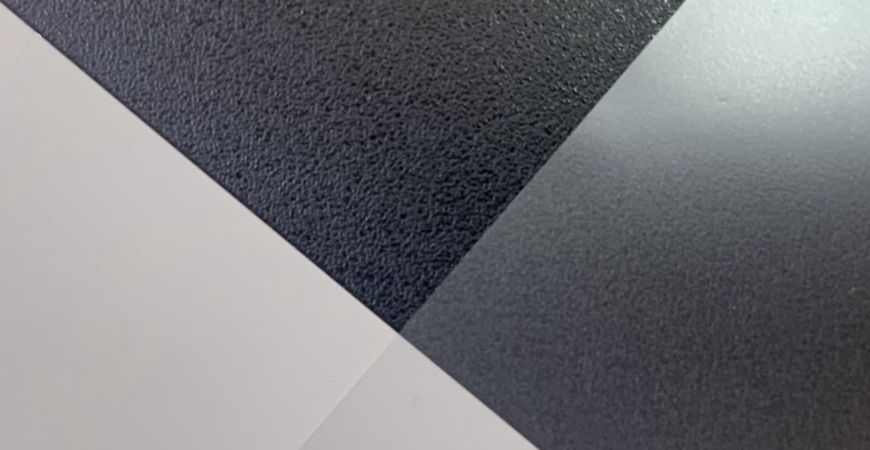 Food Safe Laminated Metal
A Film Made of Polyethylene Terephthalate (PET) With Approved Food Contact in the EU and the US
Food safe polyethylene terephthalate (PET) film with Lien Chy Metal laminated technology made it become the best solution for food processing plants. This food-safe PET film is allowed for food contact according to the latest version of EC Directive 1935/2004 and 10/2011 as well as FDA regulation 21 CFR 177.1630. It complies with food safety certificates and offers excellent corrosion resistance and flexibility while also resisting stains, dirt, and cleaning products.
---
Product advantages and specifications
Features
Suitable for food contact
Easy clean Surface
Good resistance to chemicals and dertergents
Excellent robustness and formability
Smooth finish
Suggested Use:
Indoor uses : General food industry, freezer storage, cold storage warehouse, food processing area, cooking workplace and other food related.
Interior decoration : ceilings, wall panels, garages, rolling doors, storage rooms, partition panels, etc.
Food Safe PET Film Typical Properties:
Property
15μm
Units
Value
Test Method
Test Conditions
Tensile Strength
N/mm²
MD:200
TD:210
ISO 527-1 and ISO 527-3 Sample type 2
Test Speed 100%/min.;23°C,50% r.h.
Elongation at Break
%

MD:110
TD:100

ISO 527-1 and ISO 527-3 Sample type 2
Test Speed 100%/min.;23°C,50% r.h.
Young's Modulus
N/mm²
MD:4100
TD:4600
ISO 527-1 and ISO 527-3 Sample type 2
Test Speed 1%/min.;23°C,50% r.h.
Shrinkage
%
MD:1.5
TD:0.2
DIN 40634
150°C,15 min.
Transparency
%
90
ASTM-D 1003-61 method A
-
Haze
%
48
ASTM-D 1003-61 method A
Enlarged measurement angle
Gloss
-
30
DIN 67530
Measuring angle 60°
MD=Machine Direction,TD=Transverse Direction
Item
Name
Reference Standard
Test Result
Appearance
Gloss
JIS K 5400,ASTM D523
Pass
Color difference
CIE1 976Lab,ASTM E313,ATM D2244
See sample
Adhesive property (100 squares method)
JIS K 5400,ASTM D3359
Pass
Workability Test
Lamination property (Erichsen test)
JIS K 6744,JIS B 7729,LCM spec.
Pass
Bending property
JIS K 6744,ASTM D4145
Pass
Low temperature processing property
JIS K 6744,ASTM D2671
Pass
Durability Test
Chemical resistance
JIS K 6744
Pass
Stain resistance
JIS K 5400,CNS 423,CNS 11312,CNS 2984
Pass
Boiling water resistance
LCM spec.,JIS K 6744,ASTM D2485
Pass
Abrasion resistance
ASTM D4060
Pass
Salt spray test
JIS Z 2371,JIS K 8180,JIS Z8802
Pass
Ultraviolet ray arc lamp test
JIS A 1415,JIS K 6744
Pass
Cold and hot water circulation test
LCM spec.,JIS K 6744,ASTM D33359
Pass
Test Report of Food Safe Laminated Steel:
No.
Test Item
Test Method
Test Result
1
Laminating Adhesion

Making 11 parallel cuts that are 1mm apart on the surface and repeat the step at 90 degrees.
Taping tightly the grid with 3M#610 Tape.
Tear off the tape at a 90 degree angle.

3 times,without peeling-off
2
Surface Hardness

According to JIS5600/ASTM D3363,Put standard scaled pencil leads at 45 degree angle into the 750g pencil holder.
Push the pencil holder away from yourself exerting enough force to scratch/mar the paint surface(proceed to a softer lead).Length of the strokes should be 10mm.

3H
3
Bending Test
T-Bending 180°
No Film breaks
4
Erichsen Test
Press in specimen
6mm,4.0A
Sample Spec: Hot-dip Galvanised Steel Sheet 0.376T+3μm Coating+15μm Food Safe PET Film
Remarks:The product is typically used for the construction of walls and ceilings,it is not advisable for direct food preparation.
If you want to get more information about post-processing,please browse style="color: #eda804;">Laminated Metal.
If you also want to know the anti-finger print stainless steel product,please referenceAnti-fingerprint Stainless Steelor scroll down for the product page
Package Method
We ship the product in coil or sheets, with customer assigned service, Lien Chy Metal will meet your expectation, like we always do, for more information, please refer to Protective Film and Package

Files Download
Company Profile
For more information, click here to download

Download
A Film Made of Polyethylene Terephthalate (PET) With Approved Food Contact in the EU and the US | Antimicrobial & Anti-Fingerprint Steel Sheet Manufacturing | Lienchy Metal
Based in Taiwan since 1992, LIENCHY LAMINATED METAL CO., LTD. has been a pre-coated steel products manufacturer. Our main metal products, include Food Safe Laminated Metal, pre-coated steel sheet, PPGI, PPGL, PPAL, pre-painted steel sheet, pre-finished steel sheet, anti-fingerprint stainless steel, pvc laminated metal sheet, pvc cladded metal sheet, PVDF laminated metal sheet, titanium coated stainless steel sheet, pre-painted metal sheet, coil steel sheet and titanium coated stainless steel sheet, which are manufactured with a 350M roll-to-roll production line and 50,000 tons annual production capacity..
Lienchy Metal is capable of manufacturing ISO certified 1.6mm-thick laminated steel sheets and meet SGS, RoHS and GREENGUARD standards. We are long-term partner of EU and US home appliance brands and Japanese elevator factories, our products have also been exported to all over the world, from Taiwan, Japan, South Korea, China, ASEAN countries, the United Arab Emirates, Russia, Europe and North America.
Lienchy Metal has been offering customers high-quality pre-painted and anti-fingerprint metal sheets, both with advanced technology and 30 years of experience, Lienchy Metal ensures each customer's demands are met.