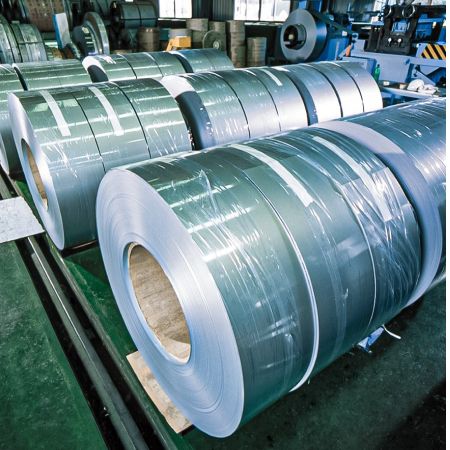 Stainless Steel Sheet
The raw materials come from well-known steel mills, suitable for various processing purposes
Lien Chy Metal is a top-tier supplier of cold-rolled stainless steel sheets. We offer a wide range of high-quality stainless steel sheets with superior finish quality and excellent flatness in various finishes.
---
Our materials have been distributed to many countries and are used in various industries such as architecture, electrical appliances, interior decorating, kitchen utensils, automotive hardware, sanitary equipment, elevator panels, chemical tanks, pipes, medical equipment, and the food industry. If you require a large quantity of high quality stainless steel sheets, please do not hesitate to contact us!
Our stainless steel sheet includ:
Type: SUS304/304L, SUS430
Surface Finish: 2B, BA, NO4, HL
Thickness: 0.4t~3.0t
| Surface Finish | Definition |
| --- | --- |
| 2B | Bright annealing finish obtained by a secondary light process which polishes rolls after No.2D is finished. It is most suitable for deep drawing that is not so severe. Polishing No.2D is even easier than before even after fabrication. It is recommended for this application to be done with (not limited to): medical equipment, milk tanks, cooking appliances, tableware and structural members. |
| BA | Very attractive finish by means of a heating treatment in an inert atmosphere furnace and then under goes a light cold process using polishing rolls after cold rolling. Due to its attractive finish, the BA finish is suitable for various decorative items and applications requiring unimpaired surface attractiveness after light fabrication. For pressed and formed products, simple buff-polishing can provide them with luster. |
| NO4 | General polished finish, obtained by finalized polishing agents 150-180 mesh after No.2B finishes. It offers a uniform and attractive appearance. Commonly the product of the No.4 finish is used as is, but further high-grade finishes can be applied if required. The finish is clean and sanitary; it is suitable for milk and food processing equipment and medical equipment. |
| H/L | Finish in which continuous abrasion lines are added to the No.4 finish. Repair after welding is easy and recommended. It is suitable for structural and similar applications. |
Company Profile
For more information, click here to download

Download
The raw materials come from well-known steel mills, suitable for various processing purposes | Antimicrobial & Anti-Fingerprint Steel Sheet Manufacturing | Lienchy Metal
Based in Taiwan since 1992, LIENCHY LAMINATED METAL CO., LTD. has been a pre-coated steel products manufacturer. Our main metal products, include Stainless Steel Sheet, pre-coated steel sheet, PPGI, PPGL, PPAL, pre-painted steel sheet, pre-finished steel sheet, anti-fingerprint stainless steel, pvc laminated metal sheet, pvc cladded metal sheet, PVDF laminated metal sheet, titanium coated stainless steel sheet, pre-painted metal sheet, coil steel sheet and titanium coated stainless steel sheet, which are manufactured with a 350M roll-to-roll production line and 50,000 tons annual production capacity..
Lienchy Metal is capable of manufacturing ISO certified 1.6mm-thick laminated steel sheets and meet SGS, RoHS and GREENGUARD standards. We are long-term partner of EU and US home appliance brands and Japanese elevator factories, our products have also been exported to all over the world, from Taiwan, Japan, South Korea, China, ASEAN countries, the United Arab Emirates, Russia, Europe and North America.
Lienchy Metal has been offering customers high-quality pre-painted and anti-fingerprint metal sheets, both with advanced technology and 30 years of experience, Lienchy Metal ensures each customer's demands are met.