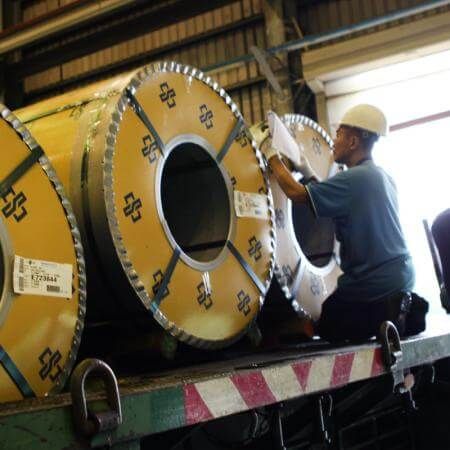 International Trade
Lienchy Metal's products have been used by customers around the world and have extensive international trade experience.
30 years of business experience has made Lienchy Metal a leading brand of laminated metal. We have high standards for quality and management operations, and have also passed ISO 9001:2015 international certification. Our business services are all over the world, and we are actively looking for international partners.
---
Whether our customers require general-purpose laminated metal products, OEM/ODM services, or customized laminated metal product services, Lienchy Metal's can provide the most appropriate and reliable solutions.

Lienchy Metal has been deeply involved in the international market for many years, and we understand that language and cultural differences can often lead to misunderstandings in communication and understanding. Therefore, our website offers 22 different language versions, enabling our international customers to understand our products and services in their native language.

If you are interested in becoming an agent/seller of our laminated metal products, please do not hesitate to contact us. You can reach out to our staff directly through the form below or by using the contact telephone number/email at the bottom of our website.
Lienchy Metal has established partnerships with numerous international enterprises, and our quality has been widely recognized. We are currently seeking distribution partners to further expand our reach.
Lienchy Metal cooperates with well-known steel mills to use high-quality steel materials to make laminated metal / anti-fingerprint stainless steel products.
Our products cover different industries and countries. You can find Lienchy Metal's high-quality metal products in the following international famous brands.
China Steel Corporation (CSC)
China Steel Corporation (CSC), the largest steel company in Taiwan. It was funded by Taiwan government and its headquarters is in Kaohsiung. China Steel Corporation has the largest steelmaking plant in Taiwan and is one of the integrated steel plants in Taiwan with a blast furnace. As of 2021, it will be the top 30 steel companies in the world.
YIEH United Steel Corp.
YIEH United Steel Corp. is a well-known stainless steel manufacturer in Taiwan. Their High-quality stainless steel materials have been widely used in different fields such as automobile industry, household goods, machinery manufacturing and construction. In addition to the domestic market, the products are also exported to many countries in Asia, Africa, Europe and America.
RENOLIT
RENOLIT is the world's leading manufacturer of high-quality plastic films, plastic sheets and other plastic products, with more than 30 production bases and brick-and-mortar stores in more than 20 countries, and the annual sales of up to 1 billion euros.
LG
LG Group, headquartered in Seoul, South Korea, is one of the four major consortiums in South Korea and a multinational enterprise group with 81 group companies and 130 overseas local legal entities. The main business scope includes three major fields of electronic and communication technology, home appliances and chemistry.
Panasonic
Matsushita Electric Co., Ltd., officially known as Panasonic Corporation, is the largest motor manufacturer in Japan and one of the top eight motor companies in Japan. It is headquartered in Miyazaki, Osaka, Japan. The Fortune magazine ranked 193th in the world's top 500 in 2022.
Mitsubishi Elevator
Taiwan Mitsubishi Elevator cooperates with Mitsubishi Electric Technology of Japan. There are two production plants in Taiwan, specializing in the sales, production, installation and maintenance of elevators. Currently, there are 4 branches and 30 service offices with over 1,000 technicians.
HITACHI
Hitachi, a multinational motor and electronics company from Japan, is one of the eight largest motor manufacturers in Japan. It is headquartered in Marunouchi, Tokyo, and manufactures household appliances, computer products, semiconductors, industrial machinery, and other products. It ranked 113th among Fortune Global 500 companies in 2022 and ranked 133th among Forbes Global 2000 companies. It is the largest integrated motor manufacturer in Japan.
Fisher&Paykel
Fisher & Paykel Appliances Holdings Limited is a large electrical appliance manufacturing company located in New Zealand. Fish & Snow Parker currently produces cooking, laundry and white goods. Fisher & Paykel brand products include built-in ovens, electric stoves, dishwashers, dryers, freezers, stoves, refrigerators and washing machines.
Foreign Customer Visits