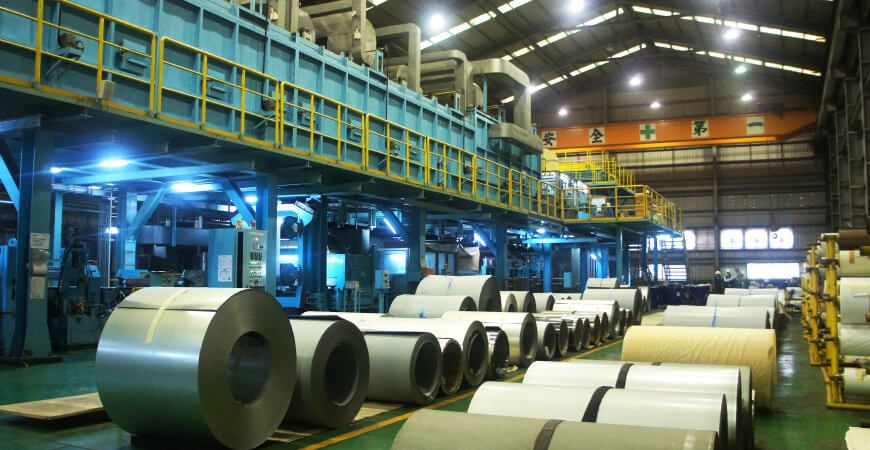 Our Advantages
The core advantages of Lienchy Metal are excellent laminating technology and mass production capacity beyond the scale of the industry.
Lienchy Metal has served hundreds of companies worldwide and has dedicated to laminated metal technology over nearly 30 years. The reason we have earned the trust of our customers is our ability to ensure product stability and solve their problems.
---
We can offer high-quality and reliable products:
Stable Quality: Lienchy Metal utilizes the roll-to-roll production method for attaching the film onto the metal substrate, which offers a faster and more efficient production process compared to the sheet-to-sheet method. This ensures that every steel plate possesses uniform and stable quality, and can be conveniently monitored and controlled.
Excellent Adhesion: With our exceptional adhesion technology, we can effectively prevent the formation of bubbles during the manufacturing process. Our carefully formulated adhesive material guarantees perfect attachment between the film and metal substrate, and our finished products pass strict stripping tests.
Good Processability: Our laminated metal products possess excellent processability due to the stability of the film and metal substrate, as well as the superior adhesive technology employed. This unique combination ensures that our products maintain their aesthetic appearance and high adhesion even after undergoing various metal processing procedures such as cutting, bending, and stamping.
Diverse Film: Lienchy Metal's vast collection of film styles ensures that our customers have access to a broad range of options to suit their individual requirements. As part of our commitment to continuous improvement, we continually expand our product categories to ensure that we stay ahead of the competition and can cater to the diverse needs of our clients.
Lienchy Laminated Metal has a continuous roll-to-roll metal coating and baking coating equipment with an annual production capacity of 50,000 tons.
At Lienchy Metal, we prioritize the comprehensive quality performance of our personnel, machines, materials, procedures, and working environment in factory management. "Safety first" is the fundamental rule that we abide by. To ensure the safety of our personnel and the stability of production, we implement 6S management to manage personnel training, equipment maintenance, material preservation, and workplace cleanliness. In addition, we have established Standard Operating Procedures (SOP) for our production process and utilize a "Management by Walking Around" approach, with on-site supervisors overseeing operations, to further enhance safety and production stability. Our "pragmatic and rigorous" attitude towards work processes ensures that we deliver our customers' orders on time, without compromising on quality.

We provide diverse range of film colors, each of which comes with unique surface coatings and processing options. Our laminated metal products can be manufactured using a variety of materials, including cold-rolled steel, hot-dip galvanized steel, electro-galvanized steel, stainless steel, and aluminum. These materials have a thickness range of 0.3mm to 1.6mm and can be produced up to a maximum width of 1300mm.

Our laminated metal substrate undergoes a comprehensive treatment process during our continuous roll to roll production line. Prior to lamination, the adhesive surface is activated through heat treatment, while the backside of the substrate is initially treated. For products such as anti-fingerprint stainless steel or pre-coated metal, we replace the adhesive with anti-fingerprint resin or organic lacquer on the surface. Throughout the production process, we conduct manual and automated inspections of color and adhesion to ensure compliance with ISO standards. Our stable roll to roll production line ensures a smooth surface on our metal products that is resistant to peeling, meeting the requirements of home appliances. Our steel coils and sheets exhibit excellent machinability and durability, enabling them to withstand subsequent bending and stamping processing.

With Lienchy Metal's extensive metal processing experience and engineering design flexibility, we are able to meet the unique needs of our diverse customer base. Whether it be technical specifications, such as processing method, metal substrate, film color, or other design or processing requirements, we engage in close discussions with our customers to fully understand their needs. Through rigorous experimentation and testing, we ensure that our production processes are aligned with our customers' requirements, producing high-quality products that meet their exact specifications.
lienchy laminated metal continually improve the quality and quality system by the spirit of sustainable management.
At Lienchy Metal, our business philosophy centers around maintaining high-standard quality management, meeting market demand, and putting our customers first. We are committed to providing accurate delivery times and good after-sales service. We place great importance on our customers' opinions and satisfaction, always striving to provide them with the best quality products and services.

As a leading company in metal fabrication industry, Lienchy Metal is dedicated to maintaining the highest levels of professionalism and driving innovation to continuously enhance the quality and diversity of our products. We are committed to exploring the possibilities of metal fabrication products for the market and our customers
Certificates