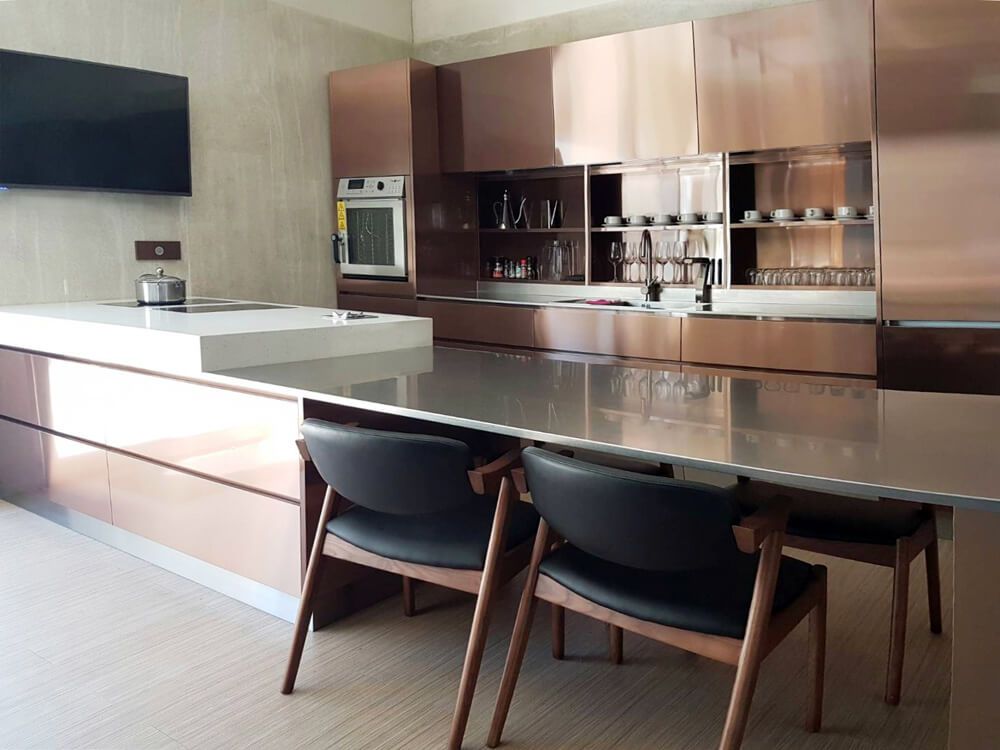 Anti-Fingerprint Stainless Steel Coating Technology
Lienchy's anti-fingerprint color coated stainless steel products use high-tech coating to improve the fingerprint and corrosion resistance of stainless steel. This product has passed the SGS test and RoHS standard, and meets the environmental protection requirements of Europe and the United States. It is widely used in the field of building materials and home appliances. In addition to the original color of stainless steel, it also introduces titanium-plated products such as champagne gold, tungsten steel black and glass rose gold. What's even better is that it can adjust the color system according to customer needs.

Lienchy Laminated Metal Anti-Fingerprint stainless steel has a high-tech coating with a load of 750g and a hardness of 2H. With a salt spray resistance of more than 1000 hours, you can enjoy products that exceed the titanium plating performance at an affordable price.
---
Features
Anti-fingerprint adhesion, easy to clean, durable and easy to maintain
2H hardness, good scratch resistance
Acid and alkali resistance, good scratch resistance, weather resistance and wear resistance
Non-toxic, mildewproof, special environmentally friendly material
Color diversity
Specifications
Color painted color: trend black, tungsten steel black, champagne gold, rose gold
stainless steel substrate: sus 304, sus 316, sus 430
Surface treatment recommendations: hairline (brushing), No.4, No.5
Substrate thickness: 0.3 ~ 1.6 mm
Plate width: less than 1300 mm
Production specifications: coils, sheets (can be cut according to customer specifications)
Related Products