Anti-fingerprint Stainless Steel
An Alternative for Titanium Coated Stainless Steel (PVD)
Anti-fingerprint color-coated stainless steel uses high-tech coatings to improve the surface cleanness and corrosion resistance. It has passed SGS testing and RoHS standards, which meets Europe and America environmental protection requirements. It is widely used in interior materials and home appliances. In addition to the original iron color of stainless steel, we also introduce trendy black and rose gold. Even better is that we can customized your own color!



Lienchy has two different coating for anti-fingerprint stainless steel:

Acrylic coated has a load of 750 grams with 2H hardness, passed the salt spray resistance test for more than 1000 hours (optional color)
Nano-ceramic coated has a load of 750 grams with 6H hardness, passed salt spray test of more than 1500 hours, and a MEK test of more than 300 times (primary color limited)

Please refer to the test results and processability below
| Test | Standards | Acrylic AFP Coating | Nano Ceramic AFP Coating |
| --- | --- | --- | --- |
| Pencil Gouge/ Scratch Hardness | ASTM D3363-00/ JIS 5600 | 2H | 6H |
| Salt Solution Spray Test | ASTM B117-09/ JIS Z 2317 | 1000hrs↑ | 1500hrs↑ |
| Solvent Resistance | JIS K 6744 | No Defect after MEK 100 times | No Defect after MEK 300 times |
| RoHS | IEC62321:2008 | Pass | Pass |
| Bending(180°) | JIS K 6744/ ASTM D145 | Pass | Pass |
| Impact | ASTM D4145 | Pass | Pass |
| Adhesion | JIS K 5400/ ASTM D3359 | 100/100 | 100/100 |
Case Presenting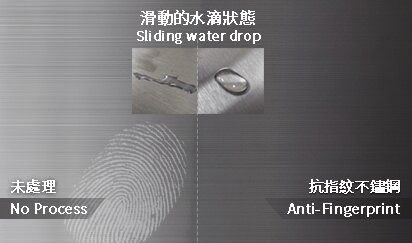 AFP SUS Comparison
As we can see, the anti-fingerprint coated surface does not stick to fingerprints and can maintain the shape of water droplets, through this process, facilitating cleaning and wiping without leaving water stains. Unprocessed surface is difficult to clean and easy to be contaminated with oil and water stains, and it is not easy to clean up. Therefore, the anti-fingerprint stainless coating used by Lienchy can effectively improve the performance of the stainless steel surface with a small amount of cost!
Product Processing
| | | | |
| --- | --- | --- | --- |
| | | | |
| Emboss | V Bending | 180° Folding | Laser Cutting |
| | | | |
| --- | --- | --- | --- |
| | | | |
| Stamping | V Cutting | 180° Folding | Printing |
Application Presenting
Processing - Finish
Selective protective film with proper processing procedure can create high value of product, that's AFP coating is used for
Lien Chy Metal selects fine substrates from local famous, trustworthy steel mill, we believe that quality is everything, with high quality of substrate and Lien Chy Metal's Acrylic/Nano Ceramic anti-fingerprint coating technology, we can produce the finest anti-fingerprint stainless steel for every customers from all around the world.
Many of our anti fingerprint SUS clients are running home appliances, kitchen appliances in different region, most of them will do various post-processing for finishing or assembling, here is the photo for your reference, the end-product is range hood, has done punching, bending and laser cutting.
Processing and assembling are equally important for making products, if the raw material cannot endure the processing requirements or assembling stress, the whole producing process would be a huge problem for both parties. Lien Chy Metal knows the importance of the quality, so we have sent our product to SGS (3rd party) for various testing, in order to make sure we can fulfill your demands. With over 30 years experience of steel processing industry, we are confident to serve you with our best.
Package Method
We ship the product in coil or sheets, with customer assigned service, Lien Chy Metal will meet your expectation, like we always do, for more information, please refer to Protective Film and Package

Features
Easy to clean and Better Durability
Acrylic AFP Coating: 2H hardness
Nano Ceramic Coating: 6H hardness with Grease Resistance
Non-toxic, Mildewproof, Environment Friendly Material
Customized Color Available
Product specifications
Color: Stainless Original, Trendy Black, Rose Gold
Substrate: SUS304, SUS316, SUS430
Surface Treatment: Hairline (brushing), No.4, No.5
Substrate Thickness: 0.3 - 1.2 mm
Maximum Width: 1,300 mm
Specifications: Coils, Blanks, also provide slitting and shearing service
Protective Film: Transparent, Laser Film, Consigned Film
Please refer to the product page for more information
---
---
Document Download
Over 26 Years Anti-fingerprint Stainless Steel | Metal Surface Treatment Manufacturer - Lienchy Laminated Metal
Based in Taiwan, LIENCHY LAMINATED METAL CO., LTD., since 1992, is a Anti-fingerprint Stainless Steel | metal surface treatment manufacturer. Main products include pre-coated steel, anti-fingerprint coating stainless steel and painted steel coil. Providing laminated metal and anti-fingerprint stainless steel solutions that is suitable for electronics, elevator interiors, door panels, cold storage panels, modular panels, prefabricated interior fittings, automotive interiors, etc
Lienchy Laminated Metal is capable of manufacturing ISO certified 1.6mm-thick laminated panel with total production capacity that exceeds 50,000MT per year, and meets SGS, RoHS and GREENGUARD standards. Laminated Metal, Pre-Coated Metal, and Anti-Fingerprint Stainless with new materials to create more brand-new and diverse applications.
Lienchy Laminated Metal has been offering customers high-quality pre-coated steel, anti-fingerprint coating stainless steel and painted steel coil, both with advanced technology and 26 years of experience, Lienchy Laminated Metal ensures each customer's demands are met.
---