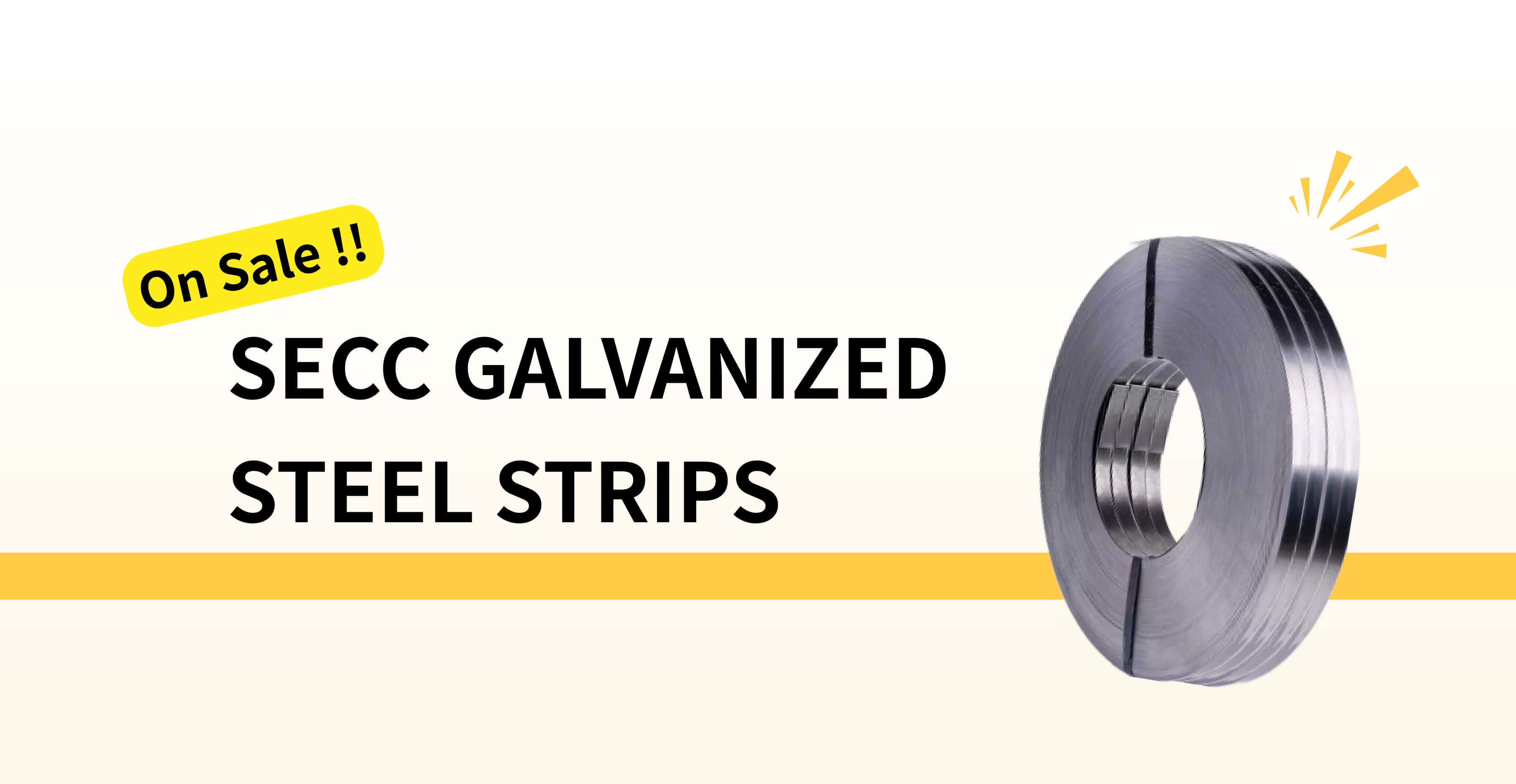 SECC Galvanized Steel Strips
SECC Galvanized Steel Strips for Packaging is on sale now !!!
Our steel strip packaging is made of high-quality SECC galvanized steel which is much safer and more durable. For more information, please contact us.
---
Advantages of packing steel strip
Compared to PET packing strips, steel packing strips offer better stability and load-bearing capabilities. They can securely bundle heavy metal sheets or coils weighing tons, such as steel or aluminum. They are also easy to use and cost-effective.
Characteristics of galvanized cold rolled package steel strip
Characteristics of Galvanized Cold Rolled Steel Packing Strips: Galvanized steel sheets SECC are coated with a layer of zinc on the surface of a general cold-rolled steel sheet, providing protection against oxidative corrosion and maintaining the strength and longevity of the steel strips.
Applications of packing steel strip
Electro-galvanized steel strips are ideal for packing sturdy and heavy items, such as metal steel coils, metal steel plates, and wooden export boxes. However, due to the tension of the steel belt during the packing and tightening process, it may cause damage to fragile items such as acrylic sheets, glass, and cartons. Therefore, it is not recommended to use steel packing strips for these types of items.
Width
Thickness
Type
32mm(almost)
0.8mm
SECC
1.2mm
Company Profile
For more information, click here to download

Download
SECC Galvanized Steel Strips for Packaging is on sale now !!! | Antimicrobial & Anti-Fingerprint Steel Sheet Manufacturing | Lienchy Metal
Based in Taiwan since 1992, LIENCHY LAMINATED METAL CO., LTD. has been a pre-coated steel products manufacturer. Our main metal products, include SECC Galvanized Steel Strips, pre-coated steel sheet, PPGI, PPGL, PPAL, pre-painted steel sheet, pre-finished steel sheet, anti-fingerprint stainless steel, pvc laminated metal sheet, pvc cladded metal sheet, PVDF laminated metal sheet, titanium coated stainless steel sheet, pre-painted metal sheet, coil steel sheet and titanium coated stainless steel sheet, which are manufactured with a 350M roll-to-roll production line and 50,000 tons annual production capacity..
Lienchy Metal is capable of manufacturing ISO certified 1.6mm-thick laminated steel sheets and meet SGS, RoHS and GREENGUARD standards. We are long-term partner of EU and US home appliance brands and Japanese elevator factories, our products have also been exported to all over the world, from Taiwan, Japan, South Korea, China, ASEAN countries, the United Arab Emirates, Russia, Europe and North America.
Lienchy Metal has been offering customers high-quality pre-painted and anti-fingerprint metal sheets, both with advanced technology and 30 years of experience, Lienchy Metal ensures each customer's demands are met.