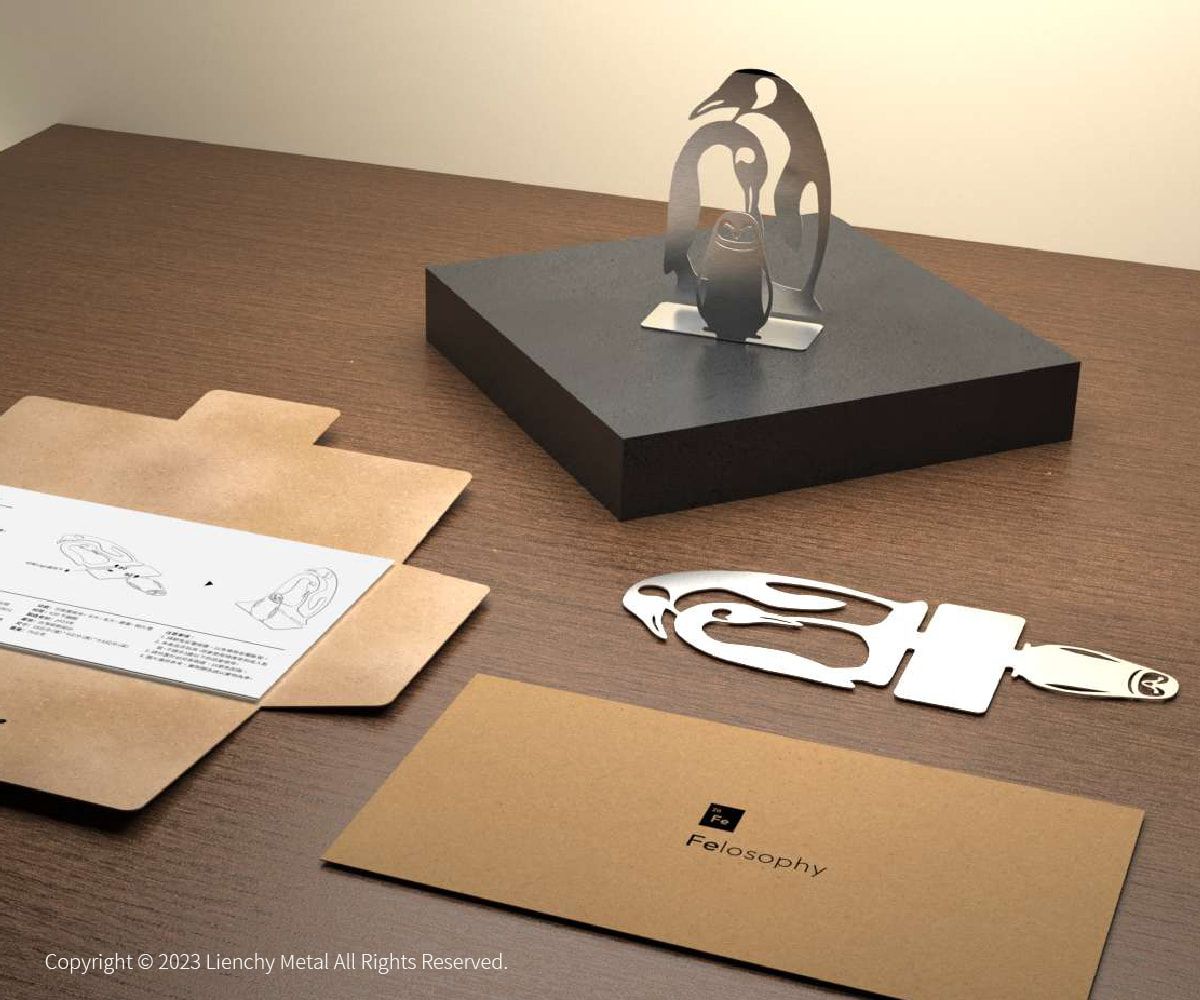 Stainless Steel Processing - Cultural & Creative Products
Not just decoration, but also a practice of environmental protection.
As society and governments increasingly demand that businesses take social responsibility and environmental issues into consideration, and in order to explore different possibilities of metal products, Lienchy Metal has develop a new product line.
---
Since its establishment in 1992, Lienchy Metal has been dedicated to producing high-quality decorative metal sheets.
To Practice the spirit of global goals such as ESG and SDGs 12, Lienchy Metal has developed a series of cultural and creative products using our own produced anti-fingerprint stainless steel as raw material. These products not only make use of leftover materials but also reduce pollution and resource waste in the metal recycling chain. The products include business card holders and candlesticks, allowing people to feel the aesthetics and quality that Lienchy Metal insists on in our products while working and living.
Business Card/Envelope Holder
This compact and exquisite holder not only stores office supplies such as business cards, letters, and notes, but also features cute animal shapes, adding a touch of fun and liveliness to the office desk. Every detail of the holder is carefully crafted to provide a relaxed and comfortable experience amidst the tedious workday.
Candlestick
Inspired by paper cutting art, Lienchy Metal designed a three-dimensional candle holder made of layers of stainless steel plates with different patterns carved on them. The exquisite three-dimensional image created by the candlelight is stunning. These candle holders are not only tools for lighting candles, but also elegant decorations for homes. They add a touch of sophistication to any space and make every moment of lighting a candle an enjoyable experience.
Innovative Products that Combine Artistic Aesthetics and Environmental Concepts
With sustainable development as our starting point, our cultural and creative series products is crafted from high-quality anti-fingerprint stainless steel, ingeniously incorporating animal motifs and three-dimensional portrait designs. These unique products not only showcase Lienchy Metal's pursuit of design and aesthetics but also embody our commitment to environmental sustainability and social responsibility.

Our cultural and creative series products can be assembled by consumers themselves through easy bending technique, making them ideal gifts for loved ones and providing a sense of enjoyment and accomplishment in the process.

The launch of these products not only responds to the trends of the time but also demonstrates Lienchy Metal's innovation, expertise, and dedication in the field of metal fabrication. It provides people with a way to practice environmental protection and sustainable development, allowing them to reflect on their impact on society and the environment while enjoying our well-designing products.

If you are interested in our cultural and creative products, please contact us by phone or email, and we will respond to your inquiry as soon as possible.
Company Profile
For more information, click here to download

Download
Not just decoration, but also a practice of environmental protection. | Antimicrobial & Anti-Fingerprint Steel Sheet Manufacturing | Lienchy Metal
Based in Taiwan since 1992, LIENCHY LAMINATED METAL CO., LTD. has been a pre-coated steel products manufacturer. Our main metal products, include Stainless Steel Processing - Cultural & Creative Products, pre-coated steel sheet, PPGI, PPGL, PPAL, pre-painted steel sheet, pre-finished steel sheet, anti-fingerprint stainless steel, pvc laminated metal sheet, pvc cladded metal sheet, PVDF laminated metal sheet, titanium coated stainless steel sheet, pre-painted metal sheet, coil steel sheet and titanium coated stainless steel sheet, which are manufactured with a 350M roll-to-roll production line and 50,000 tons annual production capacity..
Lienchy Metal is capable of manufacturing ISO certified 1.6mm-thick laminated steel sheets and meet SGS, RoHS and GREENGUARD standards. We are long-term partner of EU and US home appliance brands and Japanese elevator factories, our products have also been exported to all over the world, from Taiwan, Japan, South Korea, China, ASEAN countries, the United Arab Emirates, Russia, Europe and North America.
Lienchy Metal has been offering customers high-quality pre-painted and anti-fingerprint metal sheets, both with advanced technology and 30 years of experience, Lienchy Metal ensures each customer's demands are met.