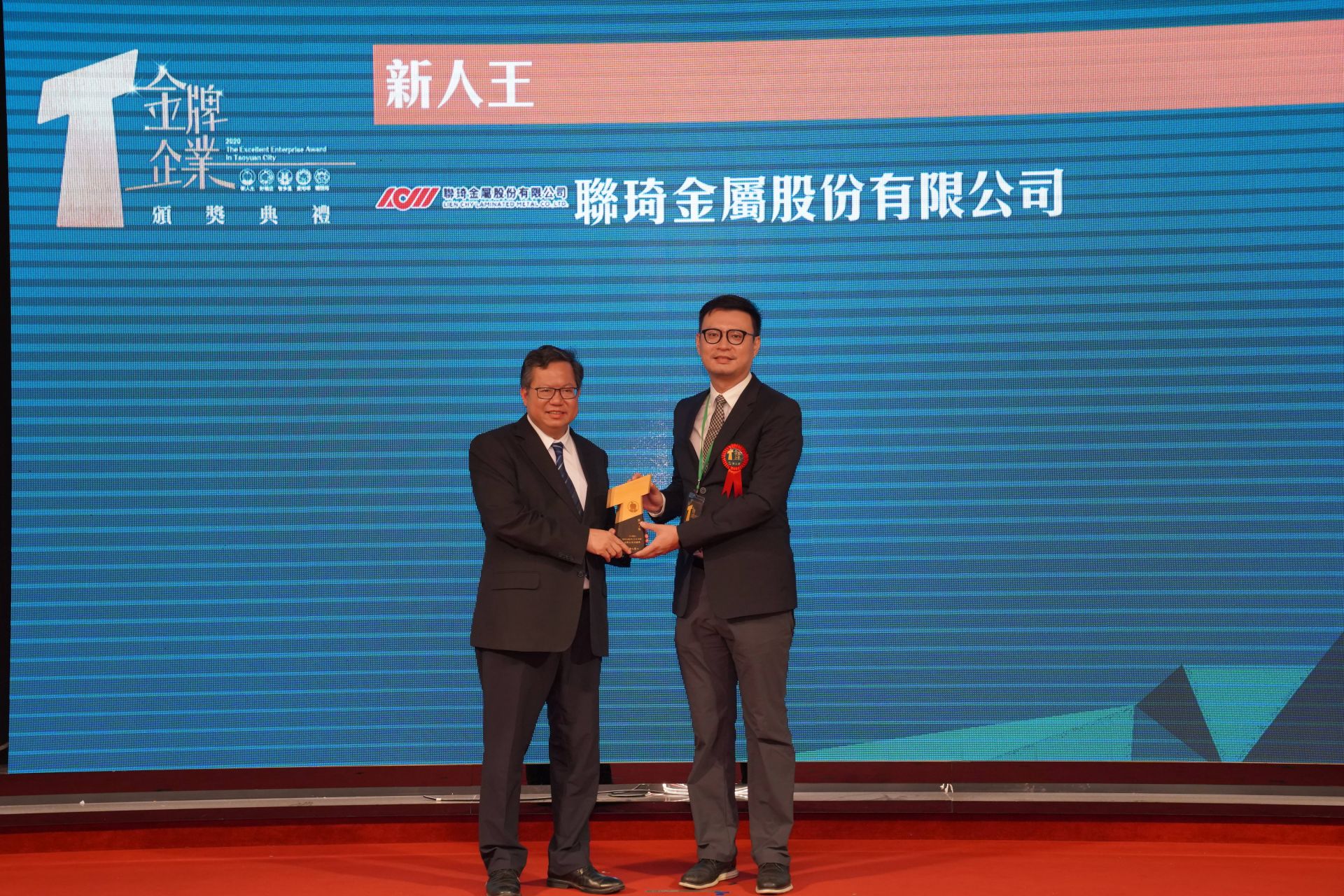 Lien Chy Won "The Excellent Enterprise Awards in Taoyuan City" for 2020
The results of 14th "The Excellent Enterprise Award in Taoyuan City" have been announced. To boost enterprise's excellent development and raise industrial competitiveness in Taoyuan, the Taoyuan City Government has established "The Excellent Enterprise Awards" since 2007.
---
25 Nov, 2020
This competition is conducted in two phases-preliminary evaluation and final review. Nearly 30 committee members have initially reviewed application documents and conducted the on-site visits within 3 months to select the finalists. There are 16 renowned companies, including Lien Chy Laminated Metal Co. Ltd., eventually ratified by 7 professional committee members in the final phase. Lien Chy greatly appreciates committee members' commendation.
Lien Chy, a leading laminated metal manufacturer, was honored to win the emerging enterprise prize for its outstanding performance on business management and innovative product development. Holding the highest market share in the laminated metal field of Taiwan, Lien Chy has been dedicated to developing laminated steel, anti-fingerprint stainless steel, and pre-painted steel and aluminum since 1992. To expand overseas high-end market, Lien Chy has established an advanced laboratory to carry out customization. With exceptional solutions that include the latest and high-quality techniques, Lien Chy has become one of the important partners in the global supply chain, and won the recognition of many customers around the world. We will consistently contribute our innovative development on laminated metal products applied to the relevant industries.
Company Profile
For more information, click here to download

Download
Lien Chy Won "The Excellent Enterprise Awards in Taoyuan City" for 2020 | PCM VCM Steel Sheet Lamination Manufacturer | Lienchy Metal
Based in Taiwan since 1992, LIENCHY LAMINATED METAL CO., LTD. has been a pre-coated steel products manufacturer. Our main metal products, include pre-coated steel sheet, PPGI, PPGL, PPAL, pre-painted steel sheet, pre-finished steel sheet, anti-fingerprint stainless steel, pvc laminated metal sheet, pvc cladded metal sheet, PVDF laminated metal sheet, titanium coated stainless steel sheet, pre-painted metal sheet, coil steel sheet and titanium coated stainless steel sheet, which are manufactured with a 350M roll-to-roll production line and 50,000 tons annual production capacity.
Lienchy Metal is capable of manufacturing ISO certified 1.6mm-thick laminated steel sheets and meet SGS, RoHS and GREENGUARD standards. We are long-term partner of EU and US home appliance brands and Japanese elevator factories, our products have also been exported to all over the world, from Taiwan, Japan, South Korea, China, ASEAN countries, the United Arab Emirates, Russia, Europe and North America.
Lienchy Metal has been offering customers high-quality pre-painted and anti-fingerprint metal sheets, both with advanced technology and 30 years of experience, Lienchy Metal ensures each customer's demands are met.