Anti-finger print-SUS
Anti-finger print stainless steel, No.4 stainless steel, Tungsten black, Rose gold, 2H hardness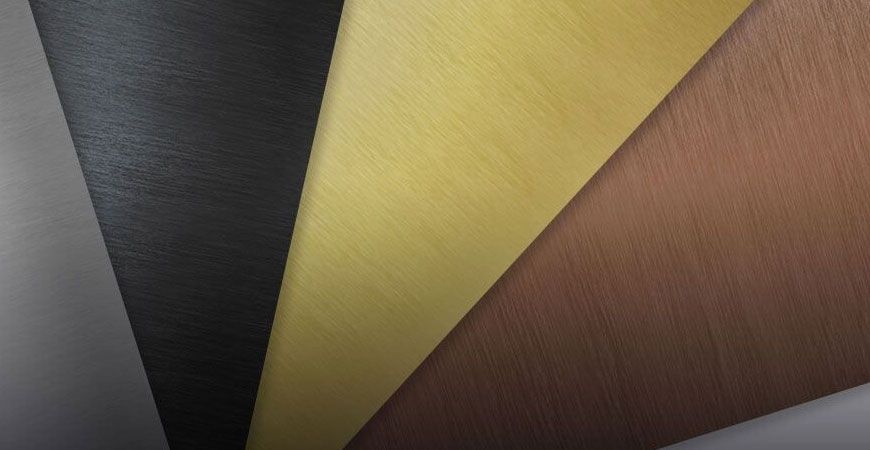 Lienchy is the supplier to offer the anti-finger print stainless steel of the famouse appliances company in Occident.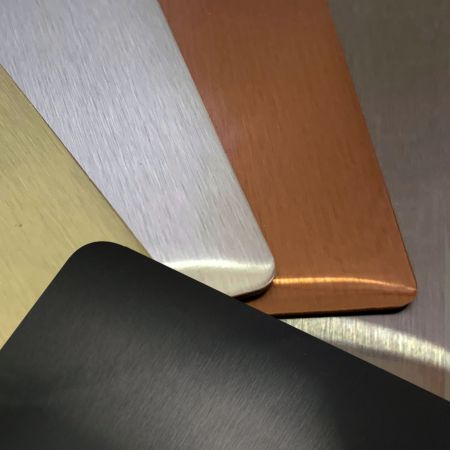 AFP-SUS has multiple colors for choose. From left to right, the colors named Champagne Gold(TA060), Original(TA052), Rose Gold(TA058), Tungsten Black(TA059). The last color named Black(TA075).
There are more colors to choose from AFP-SUS reather than AFP-SUS NCC(grease resistant). The AFP-SUS has more colors to choose rather than AFP-SUS NCC (grease resistant). If the features can satisfy your demand which with the hardness of 2H, the salt spray resistance over 1000 hours, and endure the wipe with MEK solvent to100 rounds. You can get the beautiful price than AFP-SUS NCC.
If you want to know more information contain the difference between AFP-SUS NCC and AFP-SUS, structure and processing methods of the stainless steel, the type of protect film and package, please refer to the page: Anti-fingerprint (AFP) stainless steel (Imitation Titanium Coated Stainless).
If you want to get more introduction of the AFP-SUS with individual colors, please click the page below.
Product specifications
The coating color:original, rose gold, tungsten black, champagne gold, black
---
Document Download
Anti-finger print-SUS Supply | Lienchy Laminated Metal
Based in Taiwan, LIENCHY LAMINATED METAL CO., LTD., since 1992, is a coated steel product supplier and manufacturer. The main products include pre-coated steel, anti-fingerprint coating stainless steel and painted steel coil, which is suitable for electronics, elevator interiors, door panels, cold storage panels, modular panels, prefabricated interior fittings, automotive interiors, etc
We are capable of manufacturing 1.6mm-thick laminated panel with total production capacity that exceeds 50,000MT per year, is ISO 9001 certified, and meets SGS, RoHS and GREENGUARD standards. We are also capable of entering new sectors and supply to manufacturers of 3C devices, appliances, elevators, building materials, prefabricated unit bathrooms, marine/offshore accommodations.
Lienchy Laminated Metal has been offering customers high-quality anti-fingerprint coating stainless steel, painted steel coil and pre-coated steel, both with advanced technology and 26 years of experience, Lienchy Laminated Metal ensures each customer's demands are met.
---